CGG awarded 3D survey by Petrobras.
"The 2700+ sq. km area to be imaged by this new acquisition is located in the highly productive offshore Campos Basin in Brazil."
> "... the world's largest High-Resolution 3D seismic survey ..." ? Sure, 2700 sq. km is big, but is it that big? Or when they say high-resolution, are they talking about something beyond your typical spec survey?
---
Wall Street Journal (get a subscription!): Exxon CEO Lee Raymond's Stance On Global Warming Causes a Stir.
"Add to that his disdain for gay rights and his unflinching responses to critics of Exxon Mobil's business in repressive regimes, and Mr. Raymond comes off as a strikingly politically incorrect character for a modern-day, big-company CEO."

> Wow, this article really piles it on Lee Raymond. A lot of groups are starting to use the word "boycott." For his part, Raymond seems totally oblivious to the importance of good PR.
> Raymond is just one guy in a publicly-owned multinational corporation that employees 123,000 people. But he can screw things up for everybody: employees, stockholders, and Indonesian Aceh separatists.
---
Houston Chronicle (bottom of page): Russia examines data in whale safety test.
"Russia said Tuesday it is reviewing seismic testing conducted by Irving-based Exxon Mobil Corp. as it explores for gas and oil near Sakhalin Island to determine whether the $11 billion project is harming a group of gray whales."
---
Schlumberger Oil & Gas Information Solutions acquires technology.
"DAEX -- which can be configured for a company's specific workflow and data transfer needs -- links data stores involving many formats, such as the GeoQuest GeoFrame® reservoir characterization system, Landmark OpenWorks±, Paradigm Geophysical Limited GeoLog and Baker Hughes RECALL¥."
---
I got email from another UTIG alumni: Radim Kolarsky. I didn't really know Radim that well, because we only overlapped for a year, and we didn't share any advisors.
Now, thanks to the magic of the web, I know him better. One thing I really like about the web is that it gives everyone a venue in which they can tell their personal histories. Radium's story is worth the read:
"In communist Eastern Bloc countries, it was the Party, not your grades or other merits, that decided whether or not you were going to attain any higher education. That does not mean that one had to actually be a pro-active party kissass, but of course it helped a great deal if you were."
---
Associated Press: Taiwan, China May Sign Oil Deal.
---
If you didn't know: Rick Gibson is doing some good work at Texas A&M.
Also, he was nice enough to put Ted Stieglitz's Ph.D. thesis online. 14 Mbytes!
---
WSJ (subscription): Environmentalists Highlight Firms' Rifts On International Global-Warming Treaty.
"Some of those companies now are targets of a guerrilla public-relations assault waged by Greenpeace and a tiny London upstart called Families Against Bush."
> "Guerrilla assault" is really inflammatory. I think this is an excellent tactic for environmentalists.
---
Houston Chronicle: Ocean Energy seen as ripe for takeover, but oil independent busy making deals, counting its profits.
---
Houston Chronicle: Nigerian nationals target area residents with scams.
"Since the early 1980s, federal authorities estimate that Nigerian scam artists have bilked victims out of more than $5 billion worldwide in what are known as `advance fee' fraud schemes. The Secret Service estimates that in the United States, losses to these scams amount to more than $100 million a year."
> Who are the morons who actually fall for this? Since the beginning of this year, I've received 30 Nigerian scam emails. (Although a lot of them recently claim to come from the Congo.) I'd have to be an idiot to respond to one of them.
---
I can't say why I find this interesting, but I find this interesting ->
Oil Online: Unocal announces results of Ponza deepwater well.
"Unocal Corp. confirmed that it concluded drilling operations at its deepwater exploration well on the Ponza prospect in Keathley Canyon block 774 in the Gulf of Mexico in March 2001."
---
Well, this next item isn't going to get me on the "top 100" chart for popular weblogs -- too much geophysics, too little sex. Anyway ...
Almost a year ago, I reviewed a DOE meeting of the Imaging-SEG Project. I had worked on the project on-and-off for five years, so I had -- and have -- a personal interest in it. I promised to post my thoughts on the project some day, and now that day has arrived:
An Industry/Government Consortium for 3D Elastic Seismic Modeling.
---
Oil & Gas Journal: Independents and deep water rule Western Gulf of Mexico lease sale.
Oil & Gas Journal: Western Gulf of Mexico lease sale is fourth largest by bids in a decade.
"MMS officials said Tuesday that Western Gulf Lease Sale 180 drew 386 bids from 44 companies on 320 federal tracts located off the Texas coast in the western gulf."
---
Reuters: IBM, DOE to Work on Superfast Supercomputer.
"The new supercomputer would be able to make more than 1,000 trillion calculations per second, or 1,000 teraflops or 1 petaflop."
---
Western Gulf Lease Sale 180 August 22, 2001. Webcast pointers.
---
Environmental News Network: Utah Wilderness Alliance Files Suit Over Oil Exploration.
"The Southern Utah Wilderness Alliance has asked a federal judge to stop a multinational oil and gas exploration company from beginning seismic activity on proposed wilderness near Utah's Canyonlands National Park. On Tuesday the alliance sought a preliminary injunction following a decision last week by the Bureau of Land Management that gave Veritas DGC Land Inc. permission to crisscross scenic and pristine desert countryside in search of underground oil reserves."
> "A multinational oil and gas exploration company?" Could it be that Veritas is actually an agent of the International Globalization Conspiracy?
> And 50,000-pound "thumper" trucks, eh?
"What'cha doin', Bambi?" BOOM BOOM BOOM BOOM BOOM ...
> Sorry, I don't want to belittle any environmental concerns. The truth is I have no idea what environmental impact land seismic acquisition might have in this desert. But at this point I'm more willing to give the benefit of the doubt to a seismic exploration company rather than to a group that issues press releases with "globalization" code words.
---
More Kyoto politics ->
Wall Street Journal: Bush Plan Aims to Get U.S. Off Sidelines In Next Round of Global-Warming Talks.
---
Washington Post: A Tug of War Over Energy Consumption. New Demands Offset Gains in Efficiency.
"In all, the EIA estimates, standby power consumes 4 percent to 7 percent of all electricity used in the home. David Garman, assistant energy secretary for efficiency and renewable energy, said that in televisions, standby power can draw from half a watt to 20 watts."
---
Houston Chronicle: A vanishing breed. George Mitchell closes a chapter in uncanny life.
"While walking along the banks of a little lake, where ducks paddle and a heron hunts for lunch, Mitchell says, first and foremost, it is The Woodlands that he wants to be remembered for."
---
Time: Some Shaky Figures on ANWR Drilling.
"Wow! An oil field only one-fifth the size of Washington's Dulles International Airport that'd provide more jobs than there are working men and women in Wyoming and Rhode Island? And would lower the nation's unemployment rate by a half percent? Sounds too good to be true."
---
Oil Online: Halliburton Releases New State-of-the-Art Resistivity Tool.
---
Wall Street Journal (subscription): Americans' Use of Electricity Jumped Since 1949 -- How Much Do You Use?.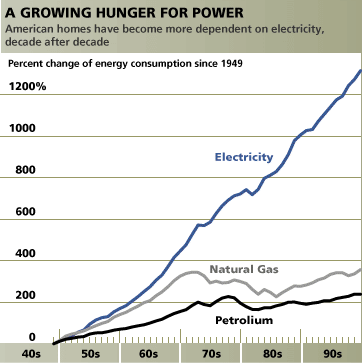 "... since 1949, when the government began keeping national energy-use statistics, Americans have increased their annual use of household electricity seventeen-fold, from 67 billion kilowatt hours to 1.1 trillion kilowatt hours." ...
"Demand for power is likely to continue rising, government and industry officials say, because of several demographic trends. American homes are still getting larger, and big houses use more energy. Population booms in the South and Southwest have resulted in millions more housing units with central air conditioning, the second-biggest user of residential electricity after water heaters. Meanwhile, makers of computers, home appliances and entertainment equipment keep coming up with new gadgets that use electricity."
> An online subscription to the Wall Street Journal is $59 a year. You really should consider it.
---
Oil & Gas Journal: Energy Department to fund 20 oil and gas research projects.
"The Office of Fossil Energy plans to select another round of project winners later this year."
> And then ...
Oil & Gas Journal: US producers push for more access to prospects, as well as technology.
> A lot of hot air and grandstanding at this meeting. Apparently Robert Mosbacher was completely off topic.
---
Houston Chronicle: Shell's deep-water hub in production.
Oil & Gas Journal: Shell begins production from Brutus field in the Gulf of Mexico.
"Shell Exploration & Production Co. has begun production from its Brutus tension leg platform on Green Canyon Block 158 in 2,985 ft of water."
---
Associated Press: FTC Investigates Unocal Over Patents.
WSJ (subscription): Unocal's Low-Emissions Fuel Patents Draw Renewed Regulatory Scrutiny.
"In March, Exxon Mobil Corp. asked the commission to investigate how Unocal obtained the patent. The oil giant alleges Unocal worked with state and industry groups in the early 1990s to establish new gasoline standards, and then patented the work and gained `monopoly profits' in the lower-emissions fuel market. In affirming the patent's validity, several courts refused to consider Unocal's conduct during the rule-making process." ...
"Separately, the U.S. Office of Patents and Trademarks has taken the relatively unusual step of opening a `re-examination' of Unocal's low-emissions gasoline patent. A spokeswoman for the patent office said such reviews typically take a year to 18 months."
---
Oil & Gas Journal: Devon to buy Mitchell Energy for $3.1 billion, boosting gas reserves.
WSJ (subscription): Devon Energy Will Acquire Mitchell In $3.1 Billion Cash and Stock Deal.
"Buying Mitchell will make Devon the nation's second-largest independent producer of natural gas, behind No. 1 Anadarko Petroleum Corp., up from its current No. 4 position. With the deal, Devon will get access to Mitchell's large gas reserves in Texas, increasing its North American reserve base by 36%. Nearly all of Mitchell's production is in Texas, and 70% of that is natural gas."
Houston Chronicle: Oklahoma company to buy Mitchell Energy for $3.1 billion.
"The offices in The Woodlands will be kept intact and operating with no significant change in the number of jobs, said J. Larry Nichols, the chairman, president and CEO of Devon."
---
Reuters: Conoco says Vietnam find contains 200 mln bbl oil.
---
A Sunday morning rambler ->
Houston Chronicle: Gulf canyons hide strange creatures and topography plus huge supply of oil, gas.
> One criticism. About a third of the way into the article, one sentence implies that the Gulf of Mexico opened during the ice age over the last 200,000 years; it actually opened tens of million of years earlier.
> Great stats here, though:
"Global Chairman, President and Chief Executive Bob Rose was dismayed by the recent government decision to scale back the size of the lease sale scheduled for the eastern Gulf, off Alabama and Florida.
"It is a `best-kept secret' that offshore drilling contributes only one-tenth of 1 percent of marine hydrocarbon pollution while offshore production contributes only 1.9 percent.
"The bulk, 45 percent, comes from transportation such as shipping, 36 percent from wastes and runoff, and 8 percent from natural sources, said Rose."
---
Reuters: Chevron sets merger vote date, awaits antitrust okay.
"Chevron Corp. presented anti-trust regulators with a plan on Friday to sell Texaco Inc's U.S. refining business -- or put it in a holding trust -- in hopes of closing the deal to buy the rival oil company within the next two months."
---
Oil & Gas Journal: US Industry accepts 5-year extension of Iran-Libya sanctions.
> I think it's time for us to work towards coming to peace with Iran. However, the effort needs to include -- actually, needs to start with -- something besides, "let's let the oil companies back in." We should start a meaningful dialog by saying something like, "We're sorry we treated you like dogs for decades. Now please stop killing us."
---
Discovery: Carbon Sequestration. A burial might be just the thing to deep-six global warming.
"The sea is by far the biggest potential carbon storehouse.... Earth's oceans hold 45 trillion tons of carbon, compared with 825 billion in the atmosphere and 2.4 trillion tied up in organic matter such as trees, soil, and your Aunt Martha. Earth's entire untapped fossil fuel reserves contain another 10 trillion tons of carbon. In theory, the oceans could absorb all of that and more."
---
WSJ (subscription): U.S. Natural-Gas Output Slowed In 2nd Quarter; Prices May Rise.
"... production at the country's top 100 natural-gas producers climbed just 1.2% in the second quarter from the year-earlier period and was flat compared with the first quarter. That was despite a big jump in the number of rigs drilling for gas. At the end of last week, 1,047 rigs were working domestic gas fields, up almost 36% from the same time last year, according to oil-services equipment company Baker Hughes Inc." ...
"The sluggish production growth isn't likely to result in significant price spikes anytime soon, however, since a weakening economy and mild weather have sapped demand for gas."
---
Oil & Gas Journal: Gas prices will rebound next year from nuclear outages, analysts say.
"The nuclear power fleet has been run `flat out' for the last 2 years. Utilization for the fleet is running on average at an historic high of 97%. In 2002, repairs and refueling of the fleet should reduce utilization to 91%...."
---
Oil & Gas Journal: DOE plans yet another review of federal energy research programs.
---
WSJ (subscription): Hunt for Oil on Caspian Sea Stokes Border Feuds and Arcane Theories.
"On a hot day last week, scientists working for oil giant BP PLC looked out from their aging research vessel, the Geofizik-3, to a disturbing sight coming across the Caspian Sea: an Iranian patrol boat, with machine guns mounted on its deck." ...
"A decade after the demise of the Soviet Union boosted the number of sovereign nations abutting the Caspian Sea to five from two, one of the planet's smallest seas has spawned one of the world's most spirited land grabs. The five countries -- Kazakstan, Turkmenistan, Iran, Azerbaijan and Russia -- are jockeying for position, each trying to stake the largest possible claim on some potentially huge oil fields that lie beneath the Caspian."
---
New York Times: Bush Savors Victory on Energy Bill.
"Senate Republican Leader Trent Lott of Mississippi predicted that a good portion of the House bill would make it through the Senate, although he was less optimistic about the Arctic refuge issue, which Senate Democrats have vowed to block."
Oil & Gas Journal: House passes broad energy bill, narrowly approves ANWR exploration.
"Another controversial section of the bill would provide $34 billion in energy tax incentives over a 10-year period, with an estimated $13 billion earmarked for the oil and gas industry. The other money is split between renewable energy and energy reliability measures."
---
Houston Business Journal: PGS to acquire Diamond Geophysical.
---
Reuters: Veritas stock plummets after profit warning.
---
Associated Press: IBM to build computing power grid.
"... IBM is investing $4 billion to build 50 computer server farms around the world...."
---
Bloomberg News: Targeting a cleaner power source.
"Target Corp. said it's selling windmill generators, for homes and small businesses, over the Internet.... Target is selling the gear through its online business, Target.com."
---
Oil & Gas Journal: Andersen says N. American drilling will continue climbing in 2002.
"The US and Canada accounted for 44% of all exploration and development spending last year by 155 publicly traded producers, up from 34% in 1999 [according to Victor Burk, managing partner for the energy and utilities industry at Arthur Andersen in Houston.]" ...
"Total exploration and development spending by the surveyed companies increased 24% around the globe last year. But the biggest jump again was in North America, where high commodity prices boosted exploration and development spending by 72% in the US and 77% in Canada. Such spending in the rest of the world was essentially flat, up only 1%, Burk said." ...
"Oil reserves last year increased 7% worldwide and 19% in the US. Natural gas reserves were up 9% worldwide and 18% in the US."
Houston Chronicle: Energy firms will press on with costly exploration.
"`Services are rising across the board, but it depends somewhat on the region how much, such as deep-water Gulf versus shallow waters,' Burk said. `Things like seismic crews have probably not increased as sharply as rig rates.'"