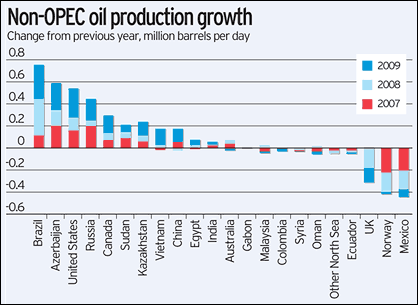 UK Telegraph: Oil's perfect storm may blow over.
"The perfect storm that has swept oil prices to $132 a barrel may subside over the coming months as rising crude supply from unexpected corners of the world finally comes on stream, just as the global economic downturn begins to bite."
---
Energy Business Review: CGGVeritas Q1 net income up.
"CGGVeritas, a provider of geophysical services and a manufacturer of geophysical equipment, has reported net income of $96 million for the first quarter of 2008, compared to net income of $91 million for the same period of 2007."
---
Reuters: Wavefield says weak Q1 a "one-off", outlook solid.
"Wavefield affirmed its 2008 guidance of higher overall margins than last year and sales of $410-430 million. It said that contract rates were growing by some 15-20 percent this year compared to 2007, highlighting strong demand for seismic scans."
---
Penn Energy: Seismic streamer record set.
"Petroleum Geo-Services has deployed 17 streamers from the Ramform Sovereign on a project in the Norwegian North Sea to set a new record. The high-density 4D project has streamers towed 50 m (164 ft) apart."
---
Reuters: Oil tops $130 haunted by future supply worry.
"Investors have been drawn in by a weak U.S. currency, which has made dollar-denominated commodities relatively cheap for holders of other currencies. The dollar slid to a one-month low against a basket of currencies on Wednesday as the euro was pushed higher by expectations of higher euro zone interest rates."
Bloomberg: 'Peak oil' sentiment pumping up long-term futures.
"Oil giants such as Exxon Mobil Corp., Royal Dutch Shell Plc, BP Plc, Chevron Corp., Total SA and ConocoPhillips will spend a record $98.7 billion this year on exploration and production, more than quadruple the amount eight years ago."
---
Houston Chronicle: Local earnings.
"OYO Geospace, a Houston-based maker of instruments and equipment used by the oil and gas industry to collect and process seismic data, reported a slight increase in first quarter earnings on higher sales."
Street Insider: OYO Geospace Misses Q2 EPS by 2c.
"'During the quarter, the company suffered two very large and expensive failures during the final stages of cable production. We lost both cables forcing us to manufacture each cable again.... In each case, we learned new processes that will help us manufacture these cables more efficiently in the future; nevertheless, the learning experience was expensive.'"
---
New Ratings: Petroleum Geo-Services "buy," target price raised.
---
The Canadian Press: Kelman reports Q1 loss of $33,000 compared with $82,000 profit a year ago.
"'Our largest seismic data processing market is still in Canada where exploration activity has been slower than in prior years,' VandenBrand said in statement."
---
Reuters: BHP sees petroleum arm growing by acquisition.
"BHP Billiton Ltd/Plc, in a hostile bid to buy rival Rio Tinto Ltd/Plc, said on Tuesday it wants to beef up its oil and gas business through acquisitions. Ideally, the world's biggest mining group would like to see the petroleum arm account for between 20 or 30 percent of a combined BHP-Rio Tinto group, BHP's petroleum chief Mike Yeager told a briefing."
---
The Daily Star, Unb, Dhaka: Chevron starts examining cracks in houses.
"There have been press reports that cracks have developed in a number of houses of the area following the start of Chevron's 3D seismic survey. Local residents alleged that the cracks have developed in their houses because of the seismic survey."
---
Dow Jones: Energy, Oil Service Cos May Need To Combine.
"Oil-field services companies will need to join forces in the next few years to avoid a downturn of the sector's own making, the chief executive of French oil services company Technip SA said Wednesday.... During a panel at the Offshore Technology Conference in Houston, Pilenko floated the idea of international oil companies acquiring service firms as a way to manage a growing labor shortage facing the entire energy industry."
"Executives with international oil giants Chevron Corp. and Total SA were skeptical of Pilenko's idea. 'You can't really buy the people,' said Bobby Ryan, vice president for global exploration at Chevron."
---
AP: Groups sue to stop seismic oil exploration in Arctic seas.
"'Our culture revolves around subsistence, with numerous activities and festivals centered around whaling,' said Lily Tuzroyluke of the Native Village of Point Hope, a federally recognized tribe and one of the plaintiffs in the lawsuit. 'When they're shooting the seismic gun, we definitely see marine mammals scatter.'" ...
"For much of the past decade, BP has been the only company producing offshore oil in Arctic Alaska, although that could change soon. As sea ice recedes, companies have flocked to the region, with Shell emerging as the largest new player. In February, Shell paid the federal government $2.1 billion for oil and gas leases in the Chukchi Sea, which spans Russia and northwest Alaska. The company previously spent more than $80 million for federal leases in the Beaufort, about 450 miles east."
O&GJ: Federal judge orders polar bear decision by mid-May.
"Offshore oil and gas exploration in Alaska's Chukchi Sea could face delays or even be halted after a US federal judge ordered the Department of Interior to decide within 2 weeks whether to list polar bears as an endangered species. US District Judge Claudia Wilken said oil industry operations in Alaska's Chukchi Sea, where one fifth of all polar bears live, 'could jeopardize the continued existence of the species' unless it is protected under the Endangered Species Act."
---
Cebu Daily News: Whales, dolphins can't sue.
"Manila, Philippines -- Saying that whales, dolphins, porpoises and the like cannot file cases, the government has sought the dismissal of a suit questioning the oil exploration at the Tañon Strait between Negros and Cebu.
"The suit, filed before the Supreme Court in December, names as petitioners the resident marine mammals of the protected seascape of Tañon Strait."
---
EFE: Argentina Protests Oil Exploration in Falklands.
"The Argentine government presented an 'energetic protest' to Britain for offering concessions to explore for oil and natural gas in the waters surrounding the contested Falkland Islands, the foreign ministry said here Thursday." ...
"[The foreign minister] also reiterated Argentina's claim to 'sovereign rights over the Islas Malvinas (as the Falklands are known in Latin America) and the surrounding maritime areas, which form part of the national territory.'"
---
Offshore Shipping Online: Hess Libya awards seismic contract to SCAN.
"SCAN Geophysical has confirmed receipt of a contract from Hess Libya Exploration Limited for approximately 4,000km of 2-D marine seismic work off Libya...."
---
RTT: Geokinetics Q1 profit falls on higher depreciation expense.
"Revenue for the quarter increased 8% to $120.15 million from $110.96 million in the previous-year quarter."
---
Business Wire: 3DGeo Develops Commercial RTM Solution for Complex Imaging Challenges.
---
Reuters: PGS Q1 surges on hot seismic market, TGS weaker.
"Norwegian seismic surveyor Petroleum Geo-Services posted a forecast-beating 38 percent jump in first-quarter operating profit and said the global rush to find more oil and gas would keep its markets strong.
"Smaller peer TGS-Nopec, also a supplier to the oil and gas industry, posted weaker-than-expected figures on Thursday but affirmed its 2008 forecasts."
Energy Current: TGS first quarter profits down.
"Despite higher sales and revenues, TGS-Nopec has seen its operating profit drop in the last financial quarter. The seismic player suffered a nine percent dip from the first quarter of last year, taking the total for the first three months of 2008 to US$46.6 million."
Reuters: Norway's PGS says wins biggest ever contract.
"Norwegian seismic survey group Petroleum Geo-Services ASA won a contract worth $180 million to $200 million from Brazil's Petrobras, the biggest ever of its kind, PGS said on Monday." ...
"The contract is for a high-density, four-dimensional marine seismic survey work and is the largest such contract ever in the industry, PGS said."
---
Energy Current: Stone Energy to acquire Bois d'Arc.
"Lafayette, La.-based Stone Energy Corp. has entered into a definitive merger agreement, acquiring Houston-based exploration company Bois d'Arc Energy.... The US$1.8 billion transfer will result in one of the largest Gulf of Mexico-focused companies in the region, with operations in the Ship Shoal, South Timbalier, Bay Marchand, Walker Ridge and Garden Banks regions."