WSJ: Despite Calls to Increase Oil Output, OPEC May Cut Production in Spring.
"The world is now consuming around 86 million barrels a day, 32 million barrels of which are pumped by OPEC." ...
"What appears certain is that OPEC itself is going to see its own production capacity increase this year by as much as 1.4 million barrels a day, as projects in Saudi Arabia, Angola and Nigeria enter service. The kingdom alone is set to add almost 900,000 barrels a day in new capacity, from basically no increase in 2007, with much of that starting in the first quarter of this year."
---
London Times: Shell chief fears oil shortage in seven years.
"Jeroen van der Veer, Shell's chief executive, said in an e-mail to the company's staff this week that output of conventional oil and gas was close to peaking. He wrote: 'Shell estimates that after 2015 supplies of easy-to-access oil and gas will no longer keep up with demand.'"
---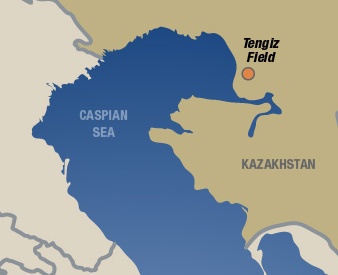 Rigzone: Chevron Starts Up Production of Expansion of Tengiz.
"This initial expansion of 90,000 barrels per day brings Tengizchevroil's current capacity to a total of approximately 400,000 barrels per day."
---
O&GJ: Mexico's oil production down 5.3% in 2007.
"Mexico's oil production fell by 174,000 b/d or 5.3% in 2007 to an average of 3.08 million b/d, according to state-owned Petroleos Mexicanos, which said the drop was due to inclement weather and an expected decline in the Cantarell complex in the Gulf of Mexico."
---
Reuters: CGGVeritas sees 3 yrs-plus of double-digit rev growth.
"French oil services firm CGGVeritas said it expects revenue to grow by 10 to 20 percent a year for at least the next three years as it cashes in on booming exploration spending." ...
"Robert Brunck, CGGVeritas Chairman and CEO, [talked to] reporters on Thursday in Singapore, the company's Asia Pacific headquarters and where it has opened a new $55 million seismic data processing centre."
---
AP: Schlumberger 4Q Profit Rises.
"The company said revenue at its oilfield services division amounted to $5.4 billion in the fourth quarter, up 18 percent from a year ago.... WesternGeco, the company's seismic arm, posted revenue of $798 million in the fourth quarter, 11 percent higher than the fourth quarter of 2006." ...
"But analysts said margins at both divisions were disappointing."
> Screw the analysts. These are great results.
> The last thing our industry -- or any industry -- needs is a stock bubble caused by unrealistic expectations in the investment community. When bubbles happen, people start throwing good money after bad on ill-conceived, worthless projects. Important work that needs to be done falls by the wayside, and more value is destroyed than created.
---
Houston Business Journal: MicroSeismic doubles revenue again.
"MicroSeismic Inc. reported a 231 percent increase in its 2007 sales, the second consecutive year that the company doubled its revenue.... The Houston-based geophysical service company provides 3-D passive seismic imaging to the oil and gas industry."
---
The Beaumont Enterprise: Seismic debate continues to rumble in Beaumont.
"[The city] council is being asked to let Houston-based Quantum Geophysical use vibratory trucks on city streets in a number of areas off Eastex Freeway." ...
"Quantum project manager Royce Hammer answered questions from council members Tuesday and tried to assure them there wouldn't be any major damage from running vibratory trucks throughout the city, a contention Tom Warner, city public works director, rebutted.... Warner said about eight years ago a company performing seismic testing with trucks did cause some damage to city streets."
---
Business Week: The Stealth Oil Giant.
"Schlumberger has figured out better than anyone else how the global oil game has changed, and it's helping to drive that change. The company is increasing its cooperation with Big Oil's most prominent rivals, state-owned oil companies, and it's helping a group of smaller upstarts that are seeking to get into the business, such as hedge funds and private equity outfits." ...
"Big Oil has lost its lock on the knowhow needed to manage complex projects. While the majors still lead in this area, Schlumberger is closing the gap. And the company has pulled ahead in technology. As oil prices tumbled to just over $10 per barrel in the late 1990s, the multinationals cut back on research and development. Schlumberger, by contrast, has always considered itself a technology company, so it kept up its spending, devising new and more efficient ways of detecting and extracting oil and gas. Today the majors invest less than 1% of revenues in research, while Schlumberger spends about 3%, or some $700 million this year."
---
WSJ (subscription): Oil Prices Detach From Demand in West.
"With so many other factors now gripping the oil patch, from rapid energy demand in China to skyrocketing oil-exploration costs to unpredictable politics in oil provinces such as Venezuela, the pace of wealthy nations' oil use as a barometer of oil-market fundamentals has become almost an afterthought."
---
Press Release: TGS-NOPEC Strengthens Management Team.
"The Board of Directors of TGS-NOPEC Geophysical Company (TGS) is pleased to announce that Robert S. Hobbs will join the company on January 25, 2008 as Chief Operating Officer reporting directly to Hank Hamilton, Chief Executive Officer."
---
Energy Current: Geo Atlantic starts ConocoPhillips WA seismic trawl.
"Fugro-Geoteam AS seismic vessel Geo Atlantic on Jan. 11 morning began the Endurance 3-D seismic sweep in ConocoPhillips' WA-398-P permit off Western Australia. The survey will extend over 1,400 square kilometres (540 sq miles) in the permit, with a further 500 square kilometres (194 sq miles) outside the permit."
---
Offshore Shipping Online: MM80 Seismic hull arrives.
"The newbuilding is an 80m seismic vessel for Sanco Shipping, which will be chartered by RXT. The vessel will be equipped with advanced ocean bottom seismic equipment."
---
Reuters: TGS-Nopec shares leap on upbeat Q4 guidance.
"TGS said Estimated standalone net revenues for the full year 2007 would be about $453 million.... 'Consequently, the 2007 annual growth rate in excess of 14 percent is in line with TGS' guidance for the full year 2007 ... prior to commencement of the merger discussions with Wavefield Inseis,' TGS said in a statement."
Reuters: Wavefield seeks to jettison TGS-Nopec merger.
"Norwegian seismic surveyor Wavefield Inseis said on Thursday it would ask shareholders to end a planned merger with peer TGS-Nopec.... Analysts said TGS would be worse off than Wavefield if the merger, originally valued at $1.2 billion, were cancelled."
Thomson Financial News: Wavefield Inseis to charter Russian ship, says will help boost profits.
---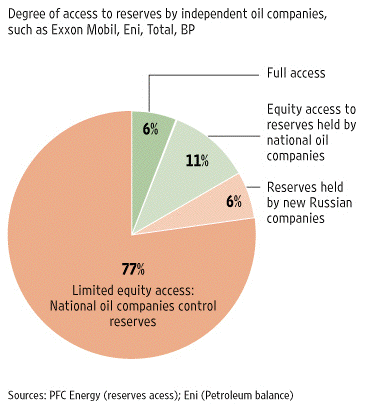 Nice interactive feature from the Wall Street Journal last week --
WSJ (subscription): The $100 Barrel.
"Oil at $100 a barrel brings crude within spitting distance of its inflation adjusted high of $102.81 reached in April 1980, a time of lines at the gasoline pumps and ecomnomic pessimism."
---
AP: Seismic tests spark curiosity in Beaumont.
"City officials said residents can expect to hear underground booms around town for the rest of the week as a company uses seismic testing to search for pockets of oil and natural gas."
---
HPC Wire: IEEE Spectrum Awards Breakthrough Seismic Imaging Project.
"... Repsol has successfully collaborated with some of the world's most experienced technology partners, including 3DGeo, a Houston-based imaging company formed by Stanford University professor and seismic imaging pioneer, Biondo Biondi, and Stanford University's Stanford Exploration Project (SEP), a leading industry-funded academic consortium, whose purpose is to improve the theory and practice of constructing 3-D and 4-D images of the earth from seismic echo soundings."