Houston Chronicle: Offshore Technology Conference expected to draw record numbers.
"Scheduled speakers include Venezuelan Energy Minister Rafael Ramirez talking about his vision of energy stability, Rice University's Wade Adams discussing nanotechnology applications offshore and Chris Herbert of Impact Weather on whether hurricanes Ivan, Katrina and Rita were phenomenal storms or a sign of what's to come."
---
AP: Natural gas nation? Not likely.
"Something is broken in the economics of natural gas, people inside and outside the industry say. The bright dream of an economy built squarely on clean-burning natural gas is slowly deflating. Although almost a quarter of the country's energy is still derived from natural gas, its share will slip in coming decades, federal forecasters now say."
---
The Washington Post: Profits, Prices Spur Oil Outrage.
"Fadel Gheit, an oil company analyst at Oppenheimer & Co. [said,] 'Penalizing oil companies does not lower prices at the pump. If we have a windfall profits tax, it will just create another moneybag for the government. It will not increase oil production by one barrel. It will not lower gasoline prices by one cent or alter our dependence on OPEC countries.'"
> I'm not against funding government; a sliding tax scale probably is a very reasonable proposal.
> But the undercurrent behind 'windfall' profit proposals -- that they are somehow punitive in nature -- makes me mad on a very emotional level.
---
Houston Chronicle: Chevron plans record spending.
"After reporting a strong profit for 2005, Chevron Corp. said Wednesday it will spend record amounts on projects aimed at adding new gasoline production and oil and natural gas reserves in the coming years." ...
"Oppenheimer analyst Fadel Gheit noted that while some observers last year thought that Chevron paid too much for Unocal, the $18 billion deal turned out to be a great acquisition."
---
Press Release: TGS Begins New Seismic Program in Russia.
"TGS-NOPEC Geophysical Company will acquire a new multi-client 2D seismic program in the Sea of Okhotsk near Sakhalin Island...."
---
Reuters: PGS shareholders back plan to split company.
---
PR Newswire: I/O and Veritas Successfully Test DigiFIN Steerable Streamer System.
---
The Virginian-Pilot: U.S. Military Opposes Offshore Virginia Drilling Plan.
"The military wants oil and gas drillers to stay out of waters off the Virginia coast, where it says energy exploration would interfere with weapons tests and the training of thousands of service members each year."
---
Houston Chronicle: Output drop sends BP's profit down.
"The impact of closed oil platforms following last year's big hurricane season showed in the slowing of production in the quarter...."
"BP said its Texas City refinery, shut down last year as a precaution before Hurricane Rita in September, was stepping up production.... The refinery, BP's largest in North America, has a 460,000-barrel-a-day capacity. It restarted gasoline production a week ago and is now running at 200,000 barrels a day."
---
Bloomberg News: Plains to buy Stone Energy of Louisiana for nearly $1.5 billion.
"Acquisitions by oil companies are accelerating. Since December, oil and gas producers have announced $70 billion in deals, up 28 percent from a year earlier, according to data compiled by Bloomberg."
---
Midland Reporter-Telegram: Pogo agrees to acquire Latigo for $750 million.
---
Press Release: Wavefield Geophysical to Conduct Offshore 3D Survey for Statoil.
---
CBS News: Making Sense Of The Oil Mess.
"Once distilled, about 35 gallons of gasoline can be made from a barrel of crude.... Crude oil comprises between 40 and 60 percent of the retail price of gasoline."
---
A look at how the general economy is responding to the higher price of energy --
WSJ (subscription): As Energy Costs Soar, Companies Retool Operations.
"The question is when companies might start raising prices. Just four years ago, oil prices were expected to remain at about $23 a barrel over the long term. But hurricanes, surging demand in China and India, refining bottlenecks and geopolitical turmoil have steadily pushed oil prices upward." ...
"Some economists say the gradual nature of the climb helps explain why the global economy hasn't been derailed as one price threshold after another has been surpassed. That also may explain how companies continue to rack up strong profits in the face of these costly headwinds."
---
Associated Press: Baker Hughes selling stake in venture to Schlumberger.
"Baker Hughes Inc., which provides drilling, products and other services to the oil and gas industry, [Friday] said it will sell its 30 percent stake in seismic joint venture WesternGeco to partner Schlumberger Ltd. for $2.4 billion in cash."
Minyanville: Seismic Activity in the Oil Services Sector.
"According to Minyanville Professor Neal Dingmann, among the best performing oil services and exploration businesses of late has been the seismic services segment, which is difficult to say three times in a row.... 'The price, $2.4 billion, is so good because the seismic business has been doing so well lately,' he added."
Bloomberg: Schlumberger Buys Out Venture Partner.
"Schlumberger Chief Executive Officer Andrew Gould, in a statement today, said he decided to buy the remaining stake in the venture, which provides seismic data to energy companies, after concluding that the current surge in exploration will be 'longer and more sustainable than anything seen in recent years.' Drilling is accelerating as oil prices rise, touching a record $75 a barrel [Friday] on the New York Mercantile Exchange."
Reuters: Schlumberger first-quarter profits climb.
"Schlumberger shares have rallied 40 percent so far this year, outpacing the 23 percent rise in the Philadelphia Oilservice Index."
---
Duke University News: Science and Policy Experts to Discuss Noise Impacts on Marine Animals.
"Some of the nation's leading marine science and policy experts will take part in panel discussions on 'Understanding Acoustic Impacts on Marine Animals' at Duke University on Monday, April 24, and Tuesday, April 25."
---
BBC: US jitters fuel fresh oil highs.
"Oil prices again reached record highs -- surging above $72 a barrel - after official figures revealed a drop in US gasoline supplies."
---
Houston Chronicle: Apache deal with BP snags Gulf properties.
"G. Steven Farris, Apache's president and CEO, said Wednesday that his company would buy 18 fields across 92 offshore blocks on the Outer Continental Shelf from BP in an all-cash deal that's expected to close by the end of June."
---
NYT: China's Rising Need for Oil Is High on U.S. Agenda.
"With crude oil selling for more than $70 a barrel and American motorists paying $3 a gallon for gasoline, American officials say the subject cannot be avoided at Thursday's meeting in the Oval Office, as it was sidestepped when Mr. Bush visited Beijing last fall."
Graph: China's Growing Thirst for Oil.
---
People's Daily Online: China's offshore oil giant [CNOOC] to invest 12 bln USD in gas, oil exploration by 2010.
"The new fields, 24 of which are under construction and 13 under development assessment, are mainly located in East China's Bohai Sea, the Pearl River estuary and the Beibu Gulf in the South China Sea...."
---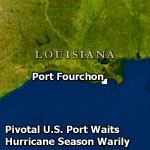 Bloomberg News: Pivotal U.S. Port Waits Hurricane Season Warily.
"The only road in and out of Port Fourchon, Louisiana, the main U.S. staging point for deepwater oil and natural gas production, sits just two to three feet above the marshland."
---
NYT: For Leading Exxon to Its Riches, $144,573 a Day.
"'It's entrepreneurial returns for managerial conduct,' said Charles M. Elson, the director of the John L. Weinberg Center for Corporate Governance at the University of Delaware. 'Exxon was there long before Mr. Raymond was there and will be there long after he leaves. Yet he received Rockefeller returns without taking the Rockefeller risk.'"
---
A report from this week's AAPG in downtown Houston --
Houston Chronicle: Oil geologists are hot commodities.
"... beneath the surface at the George R. Brown Convention Center, a veritable job fair has emerged for the scientists who ferret out oil and natural gas."
---
Casper Star-Tribune: Deal blocks testing during hunt.
"An energy company has agreed to stop seismic testing on a Wyoming national forest just before hunting season begins, after negotiating with a hunters' group."
---
ZDNet: Book celebrates Texas Instruments.
"Yeeee hawwww. Although mostly known now for producing chips for large-screen TVs and cell phones, Texas Instruments was first called Geophysical Service Inc. (GSI), and it specialized in seismology equipment for finding oil."
> Yee haw?
---
Business Wire: TGS Imaging Announces PRIMA 8.0.
"The processing division of TGS-NOPEC Geophysical Company has released PRIMA 8.0, the latest version of its seismic data pre-stack interpretation and analysis software."
---
Press Release: Fugro-Jason Announces RPM(TM) for PowerLog.
> Blah, blah, blah. But check this out --
"Fugro-Jason is dedicated to delivering new and better ways to get More Oil with Less Toil(TM)."
> It's a good thing that they trademarked that slogan; I'd hate to see anyone else use it. Ever.
---
Another Press Release: OMNI Awarded $7 Million Seismic Drilling Contract.
"With the addition of this new project, OMNI said its seismic drilling backlog now approaches $60 million, a substantial increase over backlog levels at this same time in previous years."
---
AP: Ford's top female executive to oversee huge restructuring.
"Stevens earned a degree in mechanical and material engineering in 1980. She then took a job with Exxon but her rise up that company's corporate ladder was filled with bumps.
"'I had a boss who told me that if I really wanted to reach my potential there I had to get rid of my excess baggage, and he meant my husband and kids,' Stevens said."
> Ouch.
---
Press Release: TGC Industries Announces the Deployment of Its Seventh Field Acquisition Crew.
---
MarketWire: Empire Pays $2 Million AUD to Begin Tasmanian Seismic Survey.
"Empire Energy Corporation International ... is pleased to announce that the AUD$6.4 Million oil and gas seismic survey is underway with pre-payments totaling AUD$2 Million made to Terrex Seismic Pty Ltd., a Western Australian-based seismic company. On-ground exploration activity will begin this month on a 1,400 km (870 mile) program...."
---
O&GJ: Trinidad and Tobago.
"Petro-Canada let contracts to Geotrace Technologies Ltd., London, to process two 3D seismic surveys acquired off Trinidad and Tobago."
---
PR Newswire: Paradigm to Join Chevron, Shell, and Schlumberger as an Investor in OpenSpirit Corporation.
---
Houston Business Journal: ConocoPhillips completes buyout of Burlington.
"ConocoPhillips said Friday that it has completed its acquisition of Burlington after Burlington's shareholders approved the deal Thursday."
---
Press Release: Kerr-McGee Completes Separation of Tronox.
"'With the completion of the separation of Tronox, Kerr-McGee is now a pure-play oil and natural gas exploration and production company,' said Luke R. Corbett, Kerr-McGee chairman and chief executive officer."
> This will make KMG much more attractive as an acquisition target.