"Any day now, Chevron Corp. is expected to disclose the results of an exploration well the company drilled off the West African coast, perhaps opening a new oil frontier and unleashing a gusher of revenue in the tiny island nation of São Tomé and Príncipe."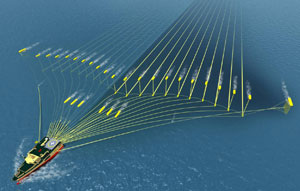 Press Release: PGS to Build Third Generation Ramform.
"The new and improved Ramform class seismic vessel has an agreed cost ... excluding the cost of seismic equipment of ... approximately $85 million." ...
"The vessel will be capable of towing up to 22 streamers."
---
And on a more modest note --
O&GJ: BGP converts fishing trawler into seismic vessel.
"It would be the first seismic research vessel for BGP, which traditionally provides onshore and shallow water as well as transition zone seismic services globally."
---
Knight Ridder Tribune News: Mexico megafield faces decline.
"Cantarell is one of the world's great oil fields; only Saudi Arabia's Ghawar field is larger. Cantarell's output of 2 million barrels per day last year accounted for about 60 percent of Mexico's output of 3.3 million barrels daily."
Bloomberg: Mexico's Lopez, Fox Clash on Energy Policy Ahead of Elections.
"Lopez Obrador, of the Democratic Revolution Party, led a nationwide poll taken by Reforma newspaper with 41 percent of likely voters saying they would choose him, up from 38 percent in February." ...
"Ramirez Corzo, who has run Pemex since November 2004, has described Lopez Obrador's intention to halt deep water production as short-sighted, saying the production will take as much as a decade. Lopez Obrador plans to forgo drilling for oil in deep waters and maintain current levels of crude production from land and shallow-water reserves, his economic adviser said on March 9."
New York Times: Analysts Skeptical of Claims of a Large Mexican Oil Find.
---
AP: Winning offshore bids are far higher this year.
O&GJ: OCS Sale 198 attracts $573.3 million in high bids.
"Near-record oil and gas prices led to robust bidding in Central Gulf of Mexico Lease Sale 198, which garnered $573.3 million in high bids from 82 companies, said the US Minerals Management Service."
---
PR Newswire: I/O Announces First FireFly Launch Partner.
"Input/Output ... and BP America Production Company ... will deploy and jointly test an innovative ten thousand station wireless seismic acquisition system to aid in expansion of the Wamsutter gas field in Wyoming. This is the first commercial application of the I/O FireFly land imaging system."
PR Newswire: I/O Reports Preliminary Fourth Quarter and Year-End 2005 Results.
"Bob Peebler, President and Chief Executive Officer, commented, 'Based on our preliminary view for the year and our current pipeline of business, we expect 2006 revenues to range between $410 and $450 million, with much of the revenue growth originating from continued market penetration of our new field acquisition systems, improving financial performance at GXT and a strong overall seismic market.'"
---
NYT: A Senate Panel Interrogates Wary Oil Executives.
"'We do know that there have been mergers and that gasoline prices have risen,' Senator Specter, Republican of Pennsylvania, said in his opening remarks."
> <sarcasm>Cause and effect -- this guy is a real scientist!</scarcasm>
---
NYT: Large Oil Spill in Alaska Went Undetected for Days.
> Oops.
---
Business Wire: TGS Charters 3D Vessel.
"TGS-NOPEC Geophysical Company announced today that it has signed a charter agreement with Fugro-Geoteam AS to utilize the newbuild Geo Barents 3D seismic vessel. The charter begins on November 1st, 2006 and lasts for a minimum period of 18 months with two options for TGS to extend the charter by six-month periods under the same commercial terms."
Construction and Maintenance News: Fugrošs largest contract.
"This is the largest contract in Fugro's history."
---
Trading Markets: Veritas DGC Q2 EPS Soars As Revenues Rise 24%.
"The Houston, Texas-based company reported net income for the quarter of $31.1 million ... compared to $17.4 million ... in the year-ago quarter. The company's quarterly revenues rose to an all-time high of $238.9 million, in comparison with $192.2 million in the same period last year."
---
Press Release: GXT Completes Acquisition of GulfSpan OBC.
"GulfSpan OBC was designed to deliver high resolution images of the ultra-deep section of the GoM shelf and to map the continuity of subsurface reservoir horizons from the onshore Gulf coast offshore into the deepwater."
---
Business Wire: Anadarko Awarded 2.6 Million-Acre Exploration Block Offshore Mozambique.
"'We are very pleased to gain this opportunity to explore for oil and gas in Mozambique,' Daniels said. 'Through our regional evaluation and analysis of existing seismic data covering most of the block, we have already identified multiple leads across an area equivalent in size to 460 typical Gulf of Mexico lease blocks.'"
---
Reuters: Many damaged Gulf oil rigs won't be repaired.
"Much of the oil and natural gas production still shut-in after last year's hurricanes in the Gulf of Mexico will stay offline because it would not be economical for companies to rebuild the production platforms, Energy Secretary Sam Bodman told Congress today.... That represents 17 percent of pre-hurricane daily Gulf oil production and 4 percent of gas output."
---
Reuters: Statoil, Shell set world's biggest CO2 seabed plan.
"Energy groups Statoil and Shell plan the world's biggest scheme to bury industrial gases beneath the seabed in a $1.2-$1.5 billion project off Norway to raise oil output and curb global warming, the firms said on Wednesday."
---
The Observer, UK: China paves way for £14bn BP oil stake.
"Jason Kenney, oil analyst at ING Financial Markets, said: 'China is the largest market untouched by oil majors. There is now one car per 1,000 people in China. That will grow to one car per 25 people within 25 years.'"
---
O&GJ: Global E&P capital expenditure -- trends & determinants.
"Global E&P capital expenditure (CAPEX) for oil and gas is expected to reach $200 billion (estimate) in 2005, which represents an increase of 50% and 80% versus 2000 and 1995, respectively."
---
Press Release: TGS Announces Major New GOM Deepwater 3D Survey.
"TGS-NOPEC Geophysical Company announced today that it will acquire a new multi-client 3D seismic survey in the areas of Garden Banks, Keathley Canyon, Green Canyon and Walker Ridge...."
---
The National, Papua New Guinea: Fugro seismic survey underway.
"The survey, known as Lahara Non-Exclusive Seismic 2D Survey, is said to be the largest in PNG covering over 12,000ha in the Gulf of Papua."
First Break had an interesting interview with Paul van Riel of Fugro in last month's issue.
---
Press Release: Kelman Announces 2005 Operating Results.
---
Press Release: Sunshine's Red Rock Seismic Survey Completed. [NE Australia]
"Sunshine Gas is pleased to announce that it has completed acquisition of its 57 kilometer Red Rock 2D Seismic Survey in ATP 684P."
---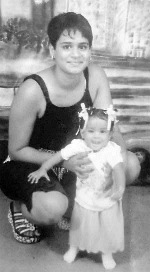 Trinidad & Tobago Express: Give us our daughter's bones.
"Back on May 6, 2003, Deomatie Persad left her rural Cushe Village home to work as part of a seismic research project in the jungle around Rio Claro."
---
AP: Lost language drains billions.
"The Interior Department disclosed this week that a provision was mysteriously deleted from hundreds of federal drilling leases in the late 1990s that would have required producers to pay royalties, once prices reached a certain level, on oil or gas taken from deep waters of the Gulf of Mexico."
---
Bloomberg: Big bet placed on oil sands.
"Chevron Corp. said Thursday it will spend billions to lead the development of an oil sands project in northern Alberta."
---
Houston Business Journal: OYO Geospace awarded $14M contract from BP.
"... for a seabed data acquisition system ... [which] will monitor reservoir operations in the Azerbaijan sector of the Caspian Sea."