WSJ (subscription): Drilling for Natural Gas Faces A Sizable Hurdle: Fort Worth. The U.S.'s Largest Field Lies Under 1.6 Million People.
"There are now 90 natural-gas drilling rigs poking holes in and around Fort Worth, more than one can find in either Africa or Europe. The Barnett Shale, all by itself, is having a significant impact on the U.S. energy sector." ...
"Until a couple years ago, the idea of drilling in Fort Worth was farfetched. The first breakthrough came when Mitchell Energy & Development Corp. figured out how to break open the Barnett Shale without breaking the bank."
---
Linux Electrons: SGI Blends Irix/Linux Onto Desktops With Up To 24GB Of Memory.
"For oil and gas research, the Silicon Graphics Prism deskside system enables seismic analysts to view 20GB of data in a single session."
---
Associated Press: Service Contractors Take on 'Big Oil'.
"As producers develop new reserves in response to the hottest energy market in more than two decades, national oil companies are becoming ever more-reliant on Western technology and know-how.
"But instead of turning to 'supermajors' like Exxon Mobil Corp. and BP Plc, the state oil companies are tapping the comparatively modest oil services industry, which is endowed with some of the best available technology but has no designs on controlling foreign reserves." ...
"When he hears executives from the supermajors tout their technology, Houston analyst and banker Matthew Simmons likes to press for details. The oil services sector holds 99 percent of the industry's technology, he said."
---
Statoil PR: Statoil Acquires EnCana's Deepwater GoM Assets.
"... Statoil will acquire EnCana's entire Deepwater US Gulf of Mexico portfolio. For this, Statoil will pay EnCana US $2.0 billion."
---
Houston Business Journal: Anadarko strikes oil in Gulf of Mexico.
"The discovery, located in a water depth of 4,300 feet on Green Canyon Block 652, was drilled to a total depth of about 26,000 feet...."
---
Dan Ebrom, GSH Newsletter: The Future of Exploration and Production Geophysics.
"Hence, I do not foresee a future of widespread high-density, multi-azimuth, multicomponent 3D exploration seismic surveys with triclinic-anisotropic elastic prestack multiple suppression and depth migration."
---
LA Times: New Wave of Oil Drilling.
"Since the nation's first offshore well was drilled in 1896 from a wooden pier at Summerland, just south of Santa Barbara, the waters off the state's southern half have produced a steady stream of hydrocarbons -- and controversy."
---
Reuters: Schlumberger Profit More Than Doubles.
"Oilfield services revenue rose 18 percent to $2.78 billion, while revenue at Schlumberger's WesternGeco seismic survey company increased 21 percent to $378 million." ...
"For WesternGeco, land revenue increased mainly in the Middle East reflecting higher conventional activity in Saudi Arabia, Chad, Algeria and Pakistan while marine revenue increased mainly in Asia."
Business Wire: Schlumberger Announces First Quarter 2005 Results.
"WesternGeco undertook the first Q-on-Q 4D project ever completed in the Gulf of Mexico.
"WesternGeco received its largest direct award [$7.5 million] proprietary depth-imaging project in the Gulf of Mexico....
"WesternGeco received a significant amount of industry pre-commitment to the largest depth-imaging project so far undertaken on its Multiclient library. The project will use the latest WEM technology to add value to existing Gulf of Mexico library data."
---
Business Wire: GX Technology Expands International Operations.
"GX Technology Corporation, a leading seismic imaging service provider and a subsidiary of Input/Output, Inc., announced today the opening of an advanced imaging center in Caracas, Venezuela. This is the first of three international imaging centers scheduled to be opened this quarter; the other two are in Nigeria and Angola."
---
Here's an old movie from some of my past work. It's an MPEG file showing P-wave propagation into the SEG salt model.
(It works fine in my mac brower, but some of you may need to right-click it, and save it to your disk.)
You can see how the wavefront speeds up and gets distorted as it enters the salt body. I used a zero-impedance modeling condition to suppress any reflections, because reflections make things too messy.
The quality isn't that great, but when I made it (10 years ago), 2.5 Mbytes seemed like an enormous file.
---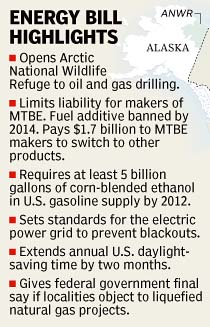 Houston Chronicle: House energy bill targets gas prices.
"By a vote of 249-183, the House approved a comprehensive new energy bill designed to increase domestic energy supplies and lessen the nation's dependence on foreign oil."
NYT: Bush Concedes Energy Bill Offers No Help on Gas Prices.
"The bill 'wouldn't change the price at the pump today,' he said. 'I know that, and you know that.'"
---
Sheffield Today: Row halted aid to a dying man.
"A company delayed airlifting a Barnsley engineer from his deathbed in West Africa because of a financial dispute, an inquest heard. Simon Johnson died from malaria 15 minutes before an air ambulance landed in Nigeria to transport him for medical treatment.
"A Sheffield inquest heard that the 31-year-old contracted the disease while working on board a boat off the coast of West Africa. But the boat owners, Offshore Seismic Surveys (OSS), did not move Mr Harrison to a specialist centre in Nairobi, Kenya for five days."
---
Oil & Gas Journal: John S. Herold Inc. cites industry employment problems.
"Among the top 25 companies (and their successors) that Herold has tracked since 1974, almost 120,000 positions have been eliminated since 1999. In 2004, employee headcount among the firms fell by more than 21,000 jobs to just over 514,000."
Houston Chronicle: Oil profits up; jobs still axed.
"The few students who chose high-tech careers in energy appear to be getting paid well. An American Association of Petroleum Geologists survey shows entry-level geologists earn an average of $65,600 per year -- a 24 percent increase since 1999."
---
NYT: The Troubled Oil Company.
"Much of the intrigue is linked to Mr. Rivero, who was named Citgo's No. 2 executive in 2003 as part of an effort to make Citgo more accountable to Caracas. [Antonio] Rivero, 41, together with Luis Marín, Citgo's former chief executive, were placed on leave from Citgo in recent weeks after an investigation into corruption accusations against them gained momentum in the Venezuelan Congress."
---
Christian Science Monitor: Privatize Mexico's Oil.
"The Mexican Congress -- still controlled by the Institutional Revolutionary Party, or PRI -- recently opened the way for possible private investment in Pemex, allowing it to form alliances with foreign oil firms.... The steps taken so far by the Congress are in the right direction. What's really needed, however, is a giant leap forward -- to Pemex's full privatization."
---
Rigzone: Oil Market Summary & Outlook: Below $50. Look Out Below.
"It's also important to remember the hype that surrounded the Goldman Sachs analysis, released a couple of weeks ago that was calling for oil prices at $105. On April 1, in this space, we voiced our doubts about the Goldman Sachs report.... Until the 200 day moving averages on futures contracts get taken out convincingly, we remain in a long term up trend in oil, and in our opinion, we are not very likely to see oil below $40 per barrel for some time."
---
Dow Jones (subscription): US Sens Urge FTC To Block Chevron-Unocal Deal.
"The price of gasoline has already reached record highs this year and the proposed merger could drive those prices even higher, the senators, all Democrats, said in a letter they sent to the FTC last week."
"A spokesman for Unocal said Monday that he hadn't yet seen the letter but questioned the senators' argument because the company 'doesn't manufacture, sell or distribute any gasoline.'"
> Doh!
---
No mention of whether this helps their geophyisical services business --
PRWeb: Fairfield Industries Acquires RFTrax.
"RFTrax develops systems utilizing multiple sensors, in concert with data management and alerting software, to provide an end-to-end solution that tracks shipments globally, protects valued assets, and ensures the integrity of the nation¹s supply chain."
---
O&GJ: USGS official upbeat about oil reserves.
"Using figures gleaned from USGS studies, [Peter McCabe, senior research geologist at the US Geological Survey] said cumulative oil production to the end of 2004 amounted to 952 billion bbl, which represents about 32% of the world total available reserves. Some 2,029 billion bbl, or 68%, he placed in a category labeled remaining recoverable oil."
---
WSJ (subscription): Kerr-McGee Settles Suit And Plans Stock Buyback.
"[Billionaire investor Carl] Icahn and his partners had wanted the company to buy back shares -- to take advantage of the spread between how the company's stock is valued and the current value of oil and gas reserves -- rather than spending on what he termed 'high-risk' exploration projects." ...
"Kerr-McGee [is planning] the potential divestiture of oil and gas properties valued at $2 billion to $2.5 billion. The divestitures are expected to include shorter-life properties located on the Gulf of Mexico shelf, in the British sector of the North Sea and in certain U.S. onshore areas. The targeted divestitures are expected to represent about 20% to 25% of current production and about 10% to 15% of proved reserves."
---
San Francisco Chronicle: ChevronTexaco's CEO banking on peak oil situation.
"Peak oil is a controversial notion that's been floating around the oil industry for decades. It concerns the inevitable moment when world oil production hits its peak and, from that point on, reserves are on an ever-dwindling downward spiral." ...
"Amos Nur, a professor of geophysics at Stanford University, told me that if we're not at peak oil right now, 'we're in the neighborhood.'"
---
Oil Online: ACOR to shoot 190 kilometers of seismic in South Australia.
"Australian-Canadian Oil Royalties Ltd. has officially contracted with Terrex Seismic to begin shooting approximately 155 kilometers of 2-D Seismic ... in the prolific Cooper/Eromanga Basin, Australia's best onshore producing Basin."
---
Business World: Dragon Oil Turkmen well output rises.
"Irish oil and gas explorer, Dragon Oil, ... said it has completed marine 3D seismic survey in the Cheleken contract area [offshore Turkmenistan]. It said 653.8 square kilometres of data has been acquired...."
---
Don Dean forwarded this newsletter from a financial consultant --
John Mauldin: $100 Oil is the Solution.
"World oil demand is currently surging far higher than normal rates. In the period 1991 to 1999, annual world oil demand growth was about one million barrels a day. In 2004 that spiked to an additional 2.5 million barrels per day. The Energy Information Administration (EIA) in Washington, DC estimates that world oil demand growth will be more than 2 million barrels per day for the next two years."
---
Houston Chronicle: Convicted of fraud, ex-CEO of Seitel ordered to jail. Jury finds him guilty of swindling $750,000 from Seitel to settle a suit with his ex-fiancee.
"As part of the verdict, Paul Frame Jr., 58, was also ordered by the 12-member jury to forfeit $750,000. Frame was stunned when U.S. District Judge David Hittner ordered him taken away by U.S. marshals instead of allowing him to remain free on bond."
---
Xinhua Financial News: China Warns Japan Over Gas Exploration in East China Sea.
"China has repeated its warning to Japan against granting oil and gas exploration rights to Japanese companies in the East China Sea, where the two Asian powers are embroiled in an escalating energy dispute."
---
The Daily Deal: Chinese oil majors go abroad.
"Standard & Poor's [Bei] Fu and other analysts said China can build up reserves by developing domestic oil fields in the South China Sea, buying crude oil from the Middle East and employing its policy of coercive price and demand control in domestic oil consumption."
---
The Orange Leader: Orange County [Texas] postpones seismic activity.
"Century Exploration Houston Inc. sought a permit to do seismic work using county-owned rights-of-way.... But County Judge Carl Thibodeaux asked Century Exploration officials if they understood no work would be allowed on Sundays." ...
"A company representative said that exclusion might create problems." ...
"'They've got Monday through Saturday to get it done,' [Thibodeaux] said. 'If you all want to re-evaluate and think it over, you're welcome to do that.'"
"The Century Exploration [representative] said they would reconsider and possibly bring back another proposal."
---
Reuters: Chevron May Sell Some U.S. Assets.
"ChevronTexaco Corp. may sell Unocal Corp.'s North American onshore fields and Asian power plants for an estimated $2 billion after it closes the purchase of its smaller California rival, a source close to the plan said on Tuesday." ...
"ChevronTexaco's main interest is in Unocal's offshore fields in the Gulf of Mexico, Indonesia and Thailand, the source said."
---
O&GJ: BP makes sixth oil discovery in deepwater block 31 Angolia.
---
I had LASIK yesterday, so I had to stay off the computer. Which is why I missed this --
NYT: ChevronTexaco Offers $16.8 Billion for Unocal.
"With talks extending late into Sunday night, ChevronTexaco beat Eni of Italy and China's state-owned oil company, C.N.O.O.C., after Unocal put itself up for sale in an auction earlier this year. The takeover interest in Unocal, based in El Segundo, Calif., had helped push its stock price up by nearly 50 percent since the beginning of the year." ...
"The acquisition will also propel ChevronTexaco up one notch in rank, past Total of France, as the world's fourth-largest publicly traded oil company in terms of total oil and gas production, behind Exxon Mobil, BP and Shell."
---
Petroleum News: Shell dominates.
"Shell has said for some time that it is interested in Alaska, and the company put its money on the table March 30 in Anchorage, spending more than $44.4 million on 86 winning bids in the Minerals Management Service¹s Beaufort Sea oil and gas lease sale."
---
PR Newswire: Seitel, Inc. Announces Offer to Purchase 11.75-Percent Senior Notes.
"The company is required by the terms of its indenture for the Notes to make this offer because the company generated excess cash flow (as defined in the indenture) for the year ended 2004 of approximately $9,859,000."
---
Reuters: Goldman Sachs: Oil Could Spike to $105.
"During 1980-1981, gasoline spending in the United States corresponded to an average 4.5 percent of GDP, 7.2 percent of consumer expenditures, and 6.2 percent of personal disposable income, Goldman said.
"'Our new $50-$105 per bbl super spike range perhaps conservatively corresponds to gasoline spending in the United States that reaches 3.6 percent of forecasted GDP, 5.3 percent of consumer expenditures, and 5.0 percent of personal disposable income.'"