O&GJ: Worldwide upstream spending rose 9% last year, analyst say.
"Development spending registered the biggest increase last year, up nearly 21% to $100.1 billion. Exploration spending, on the other hand, inched up less than 1% to $30 billion as unproved property purchases fell 42% to $5.5 billion."
---
Houston Chronicle: Shell details reserves plan. $45 billion put toward raising output, exploring.
"The company is in a spot. In this high oil price environment, most of the so-called supermajors, the top five publicly traded oil companies, are using the proceeds to buy back stock and increase dividend payments.
"Not Shell. The company must plow significant resources into rebuilding its reserve base and upping oil and natural gas production."
---
If you've followed my blog for awhile, you know that I am a fan of the elusive, never-seen-live giant squid. So why didn't I see this coming? --
New Scientist: Seismic surveys may kill giant squid.
"Normally, only one giant squid per year is found along the coast of Spain, says Angel Guerra of the Institute for Marine Investigations in Vigo, Spain. But in the autumn of 2001, five were found stranded ashore or floating dead at sea, along Spainšs northern coast on the Bay of Biscay. In 2003, another four were found."
BBC: The deafening sound of the seas.
"The International Whaling Commission said in July there was 'compelling evidence' that entire populations of marine mammals were at potential risk from increasingly intense man-made underwater noise. Its scientific committee said low-frequency ambient marine noise levels had increased in the northern hemisphere by two orders of magnitude over the last 60 years."
---
Sify, India: ONGC to hire 12 more survey vessels.
"Talking to newspersons following a flag-off ceremony on Tuesday , the Chairman and Managing Director, Subir Raha, described the exercise as the 'biggest ever data acquisition programme worldwide.' ... The offshore survey alone would cost the company over $200 million. The survey will be conducted using the latest 4D technology."
---
The New Zeland Herald: Cullen tax waiver to include drilling rigs, seismic ships.
---
2004.09.21
WSJ (subscription): As Prices Soar, Doomsayers Provoke Debate on Oil's Future.
"No one disputes that for the past two decades, the world has been pumping out more oil than it has found in new fields. And consumption is rising quickly, meaning the gap could widen. By 2030, predicts the Paris-based International Energy Agency, global oil consumption will jump to 120 million barrels a day from 82 million barrels a day now."
---
Business Wire: GX Technology Continues to Grow with the Addition of GMG/AXIS.
"Effective immediately, the commercial software operations of GMG/AXIS, Green Mountain Geophysics, will be combined with the software modeling division of GXT and will be renamed the GMG Products Division. The processing services business will operate under the new name of AXIS Imaging Division within GXT."
---
Petroleum News: MMS: Seismic activity poses no serious threat to whales.
"Each year there are about 20 MMS-permitted 3-D seismic surveys in the U.S. Gulf." ...
"MMS considered several options in its study ranging from the status quo to tighter restrictions on seismic activity. The agency essentially is sticking with current regulations that give whales the right of way in the U.S. Gulf, a stipulation the MMS first used in the 2002 Western Gulf of Mexico oil and gas lease sale and later amended to include all blocks under lease in the U.S. Gulf." ...
"It's believed about 500 sperm whales reside in the U.S. Gulf.... Scientists also believe Mississippi Canyon, among the most prolific deepwater exploration and production areas in the U.S. Gulf, would be a major calving area for the female sperm whale. But there is a lot scientists admittedly don't know about sperm whale behavior, which includes an adequate explanation for the noticeable absence of adult males in the Gulf."
---
KATC: At least five rigs adrift in the Gulf.
"Five offshore oil rigs were set adrift in the Gulf of Mexico and three others were damaged by Hurricane Ivan, the Coast Guard said Thursday."
Houston Chronicle: Some rigs adrift after hurricane.
"Companies started landing crews of the hundreds on platforms spread throughout the Gulf, with some units starting up before sundown. Teams were assessing damage, which in many cases appeared to be light, and predicted operations would restart in the next few days."
---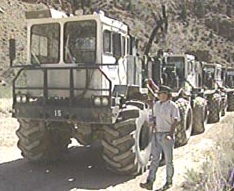 KSL News, Utah: Nine Mile Canyon Tremors Minimal So Far.
"At a company demonstration, observers could feel the ground tingle. It's enough to put ripples in a water bottle five feet away, but not enough to knock a golf ball off a tee."
---
Houston Chronicle: Likeliness of oil mergers are growing.
"Last year, companies spent about $30 billion on stock buybacks and $30 billion looking for new oil and gas fields, according to the report released by research firm John S. Herold and energy advisers Harrison Lovegrove & Co."
---
O&GJ: Most GOM oil production shut in as Ivan advances.
"More than 1 million b/d of oil production and nearly 4.2 MMcfd of gas production were shut in as a result of the storm, said MMS officials. That's equivalent to 61.3% of daily oil production and 34.1% of daily natural gas production in the Gulf of Mexico, they said."
---
AFP: Total dismisses idea of takeover bid for Royal Dutch/Shell.
"Rumors that Total was eyeing Shell surfaced last month after the British Sunday newspaper The Observer reported that Shell feared it was a takeover target of Total, citing informed sources at Shell."
---
O&GJ: ONGC to invest $536 million in Mumbai High.
"... at least half the sum is being directed towards new projects."
---
Canadian Press: Onex to invest $85M (U.S.) in French firm.
"The Onex Corp. conglomerate is investing $85 million (U.S.) in a French company that sells seismic data and geophysical equipment.... The notes are convertible into common shares that would give Onex 1.4 million shares, or 10.5 per cent of Compagnie Generale, also known as CGG."
---
ABS-CBN News: Philippines not yielding claim on Spratlys.
"Energy Secretary Vicente Perez Jr. on Thursday clarified that the agreement entered into by the Philippines and China on the joint marine seismic undertaking in the South China Sea is not an indication that the Philippines is giving up its claim over the disputed area."
---
Business Wire: Bolt Technology Reports Fiscal Year 2004 Results.
"Fiscal year 2004 sales increased by 37% to $14,806,000 from $10,842,000 last year.... Bolt Technology Corporation is a leading worldwide developer and manufacturer of seismic energy sources and underwater connectors used in offshore exploration for oil and gas."
---
PR Newswire: PGS Rejects Proposal from CGG.
"Petroleum Geo-Services ASA('PGS' or the 'Company') announced today that it has received a proposal from Compagnie Generale de Geophysique (CGG) for the acquisition of PGS' geophysical business (the 'Proposal'). The proposed consideration is USD 900 million, of which USD 800 million is in cash and USD 100 million is in newly issued shares of CGG common stock." ...
"... PGS has informed CGG that the Proposal is rejected."
---
AP: Veritas DGC Delays 4Q Earnings.
"Shares of Veritas DGC Inc. plunged more than 20 percent in the extended session Wednesday after the company said it is delaying its fourth-quarter earnings release to review what officials called a 'difficult quarter.'"