Houston Chronicle: Special charges send Baker Hughes into loss.
"Asked during a conference about its plans for WesternGeco, Chairman, President and Chief Executive Mike Wiley said Baker Hughes has no plans to sell its interest. It intends to hold onto the 30 percent 'until such time as we can get an exit to our advantage.'"
---
Business Wire: Input/Output Announces Strategic Technology Alliance with Apache.
"... Apache and I/O plan to focus their initial efforts on the System Four(TM) land acquisition platform utilizing digital, full wave VectorSeis sensors and the AZIM(TM) processing technique for anisotropic subsurface imaging."
---
Business Wire: TGS-NOPEC Geophysical Company Announces Major Deepwater Gulf of Mexico 3D Reprocessing Project.
"TGS-NOPEC Geophysical Company announced today it has initiated an extensive reprocessing project called MC Revival on over 14,000 square kilometers (627 OCS blocks) of 3D seismic data located in the Mississippi Canyon area of offshore Louisiana. Employing the latest algorithms for 3D Kirchhoff pre-stack time migration (PSTM), TGS-NOPEC will offer migrated gathers as well as several partial stack volumes to facilitate advanced amplitude vs. offset (AVO) analysis."
---
Houston Chronicle: Weaker production in oil, gas a surprise at Shell.
"On the production side, it looks like the Brutus deep-water Gulf of Mexico project is declining at a faster rate than expected...."
---
I'm planning on taking off most of next week for SEG Dallas, so I've been trying to accomplish a lot at work this week. Which is my lame excuse for falling behind here --
---
Houston Chronicle: Schlumberger socked with loss. Baker Hughes venture blamed.
"Profits were reduced by $205 million by a write-down in the value of the data library of WesternGeco, which makes seismic maps of oil reservoirs, the company said. A decline in the value of WesternGeco's fleet of ships trimmed profits by an additional $38 million."
---
Primezone: Bankruptcy Court Confirms PGS Restructuring Plan.
"Under the Plan, the Company's existing bank debt and outstanding senior notes will be cancelled in exchange for a combination of new senior notes, new ordinary shares, cash and possibly interests in a new term loan facility."
Primezone: PGS commences rights offering.
"The Rights Offering gives holders of at least 23 existing ordinary shares ... the right to purchase additional new ordinary shares of the reorganized Company."
---
Press Release: CGG - Sercel Acquires Sodera.
"SODERA is a leading provider of airgun sources used mainly in seismic data acquisition."
---
Business Wire: Rock Solid Images Announces Lithology and Fluid Prediction Project.
"Rock Solid Images announced today that it is launching a new research project to further investigate the use of multiple seismic attributes, attenuation, and rock-physics for direct hydrocarbon detection and drilling risk reduction."
---
PR Newswire: 4th Wave Imaging Awarded $780,000 for Greenhouse Gas Study.
---
Business Wire: NuTec Energy Services Leverages Sistina's Storage Infrastructure Software to Build Linux- and Blade-Based Storage Area Network.
"Due to the performance, scalability and affordability of the Linux operating system, NuTec Energy is moving toward this single OS as a common platform to support multi-vendor, heterogeneous solutions to ease administration and centralize management within the data center."
---
Canada Newswire: IBM, Helical Systems Inc. and TeraRecon Inc. Announce Petroleum Industry Data Management Solution.
"TeraRecon's patented VolumePro(R) 1000 ... supports visualization of areas of interest comprising as much as 6 GB of actual data. "
---
Press Information: Prize for seabed logging.
"This year's World Oil Award for the best exploration solution has been won by Statoil Innovation subsidiary Electromagnetic GeoServices (EMGS) for its seabed logging technique." ...
"Its prize-winning seismic surveying technology replaces sound waves, which cannot tell hydrocarbons from water in the sub-surface, with electromagnetic waves able to make this distinction. The solution has been developed by Statoil and licensed exclusively to EMGS. Originally applicable only in waters more than 500 metres deep, it can now be used in depths down to 300 metres."
---
Slate: Can Sonar Kill Whales?
"The decompression-sickness theory is controversial, ... [but] a study published in last week's issue of Nature has strengthened the environmentalists' case. The European researchers analyzed the carcasses of 10 whales that beached themselves in the Canary Islands last year, at the same time as a NATO naval exercise was being conducted in the area. They found that the whales suffered from gas-bubble lesions consistent with decompression sickness; they also noted that the naval vessels were using mid-frequency sonar...."
---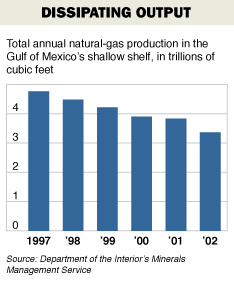 WSJ (subscription): Firms Drill Deeper for Natural Gas. Wells Over Five Miles Down In Gulf of Mexico Could Help To Ease Supply Worries.
"Before natural-gas prices escalated in 2001, the long-range historic norm was about $2.50 per million British thermal units. Monday, natural gas for delivery next month closed at $5.547 per million BTUs on the New York Mercantile Exchange."
---
Slate, International Papers: Chad Says: Oil for the People!
"Britain's Guardian characterized the World Bank's scheme for Chad as a gamble, counting on the country 'bucking the trend' established by oil-rich Nigeria, Angola, and Equatorial Guinea -- 'showcases of how oil can breed kleptocratic elites and fuel corruption, conflict and poverty.'"
---
Houston Business Journal: Veritas revises quarterly, full-year results.
"The revised results widen the third-quarter loss to $70.7 million, or $2.11 per share, and widen the full-year 2003 loss to $59.9 million, or $1.80 per share."
---
Primezone (PR): PGS Senior Creditors Approve Restructuring Plan.
---
Business Wire: HyperDynamics' SCS Commences New 4,000 Kilometer Seismic Acquisition in Guinea, West Africa.
"Robert Bearnth, vice president and chief geophysicist for SCS, explained, 'As was the 2002 data, the current 2003 data is being acquired using state-of-the-art 6,000 meter digital cables. This allows us to view features at depths in excess of 18,000 feet, which is three times deeper than anything seen in Guinea to date.... These prospects have never been viewed before because most of Guinea's existing seismic was shot over 20 years ago using 2,000 meter analog cable. The old technology simply could not see what we are seeing now.'"
---
Knight Ridder: Congress debating underwater seismic testing.
"For more than 20 years, much of America's coastal areas have been off limits to oil and natural gas drilling, but now Congress is weighing whether to permit underwater seismic tests to see what untapped energy supplies may be there."
---
Matamat, Bangladesh: Environmentalist expresses concern over move by Shell oil.
"Quoting recent newspaper reports, the former Environment Secretary deplored that after three years the Shell company has again sought permission of the government to conduct seismic survey in the Sundarbans for oil exploration. Seismic survey would destroy bio-diversity and environment of the forest and Bangladesh should not allow it, Marghub said in his letter."
---
USA Today: Russia hints at break with OPEC on prices.
"'We have a disagreement with OPEC, as we believe that prices above $25 per barrel are hurting consumers, while they consider a price of $28 a normal one,' [Energy Minister Igor Yusufov said Friday.]"
---
O&GJ: ChevronTexaco makes oil discovery in deepwater GOM.
"ChevronTexaco Corp. reported a new deepwater Gulf of Mexico oil discovery at the Sturgis prospect on Atwater Valley Block 183 about 150 miles southeast of New Orleans."
---
Oil Online: Devon, Kerr-McGee temporarily abandon Gulf of Mexico Yorktown prospect.
"To date, costs for the Yorktown well are approximately $86 million...."
---
Reuters: U.S. giant is in talks with Yukos, Putin says.
"Russia's President Vladimir Putin said Russian oil major Yukos was talking to Exxon Mobil about selling a big portion of its stock to the United States oil giant, Kremlin officials said Monday."
---
NYT: On Sakhalin, the Cold War Is Ending.
"Sakhalin's mountainous southern half seems destined to get wilder. The vast oil investments are taking place offshore or in the north, which is a pancake-flat river delta, lined with old seismic lines cut through the forest for oil exploration. Last fall's census showed that Sakhalin's population had dropped almost by a quarter since 1990, to 546,000."
---
WSJ (subscription): Total, BP and Exxon Mobil Pump Most From M&A Deals.
"Many of the best-performing companies clinched major tie-ups or purchases in 1998 and 1999 when oil prices were low, benefiting as prices recovered sharply to their high levels today."
---
World Oil: Improvements in 4D seismic acquisition.
"[4D] technology has a multi-billion dollar potential value by increasing hydrocarbon recovery. However, to fulfill this potential, technical improvements are needed, as some recent failures have demonstrated. The technique is immature, and the industry's appreciation and knowledge of the key issue of repeatability is limited, though rapidly evolving."
---
Business Wire: EarthModels Ltd. Joins Petris' ASP Service.
"EarthModels Ltd. will be providing its Chronos family of reservoir modelling programs via the Internet.... EarthModels will initially offer its Chronos 3D geological reservoir modelling program and will later add the model-based 4D seismic analysis and modelling tools of ChronoSeis."
---
Press Release: Geokinetics Appoints New Chief Executive Officer.
"David A. Johnson has been appointed as President and Chief Executive Officer of Geokinetics." ...
"Lynn A. Turner will continue to manage seismic acquisition operations as President of Quantum Geophysical, Inc., and Stuart Reynolds will continue to manage the data processing operations as President of Geophysical Development Corporation."
---