O&GJ: Anadarko cuts jobs, closes offices to reduce costs by $100 million.
"About 70% of the 400 positions to be eliminated are in 'departments supporting the company's exploration and production efforts,' with the other 30% to be taken from E&P. Most of the layoffs 'will take effect immediately,' said company officials. Anadarko currently has 3,400 employees worldwide."
---
Ariel Cohen, National Review: Killing the oil company that laid the golden eggs.
"The Putin administration has begun a methodical dismantling of YUKOS, the fourth-largest oil company in the world and the flagship of the Russian oil industry."
> Sounds bad, but Cohen never actually explains what's happening.
---
Forbes: S&P cuts Petroleum Geo-Services rating to D.
"PGO's bankruptcy filing follows a previously announced agreement with a majority of PGO's banks and bondholders and its largest shareholders to support its plan of reorganization."
---
Press Release: Core Reports Q2 2003 Revenue Of $100 Million; Earns $0.15 Per Share.
"Net income for the quarter reached $4,635,000, more than three times the second quarter of 2002." ...
"Core's Reservoir Management division posted a loss, and the Company has decided to halt funding for continued development of its patented In-Reservoir Seismic(TM) technology. With client demand for In-Reservoir Seismic services remaining weak and operational losses mounting, the Company has decided to offer the technology at its present level. Last year, development costs and operating losses totaled over $1,600,000 and approached $500,000 in the second quarter of 2003."
---
Press Release: Input/Output Reports Second Quarter Results.
"Net sales for the second quarter of 2003 were $34.6 million compared to net sales of $22.9 million in the second quarter of 2002. Net sales were up 51% primarily due to stronger sales in the recovering land division."
> They lost money, but you have to be an accountant to figure out how much.
---
Press Release: SGI Announces Key Sales Wins for Fourth Quarter.
"The exploration and production department of Total, the major French oil and gas company purchased a 256-processor SGI Altix 3000 supercluster."
---
Press Release: PGS Commences U.S. Chapter 11 case with Support of Major Creditors and Certain Significant Shareholders.
"As previously announced, the proposed restructuring involves a restructuring of the PGS Group's total debt to a sustainable level, from approximately US$2.5 billion to approximately US$1.3 billion. This is achieved through conversion of the existing bank and bond debt into new debt and a majority of PGS's post-restructuring equity."
---
Houston Business Journal: Anadarko to shut down some rigs.
"Anadarko Petroleum Corp. spent heavily in its budget in the first half of the year and now plans to shut down some its U.S. drilling rigs to stay within budget, Reuters reported on Tuesday."
---
World Oil: Integrating seismic data processing and visualization.
"3D visualization software has meant that larger amounts of data can be viewed and assessed by geoscientists.... This provides analysts with access to high-end 3D visualization tools and displays that enable both interactive picking of processing parameters and data QC." ...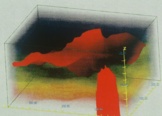 "The visualization environment benefits depth-model building for depth migrations (such as the newer wave equation routines) in particular, as the process of model building is highly interpretive and QC-orientated within a collaborative setting. By combining into one view, or linking to other software viewers, many data types related to the model building can be viewed, such as gathers, stacks and velocities."
> Back in 1991 when I was doing 3D poststack depth migration, I started q.c.'ing my velocity models using medical imaging software called VoxelView that was sold by Vital Images, a small Iowa software company, and ...
> Man, I am getting so old.
---
Business Wire: OYO Geospace Reports Fiscal 2003 Third Quarter Results.
"'Our traditional seismic exploration marketplace continues to struggle with little new crew activity or equipment needs,' said Gary D. Owens, OYO Geospace's Chairman, President and CEO.... 'While challenges plague the seismic exploration market, we continue to see customer interest in our seismic reservoir characterization and monitoring products.... These products continue to be an important growth opportunity for our company.'"
---
Grande Prairie, Alberta, Daily Herald-Tribune: Seismic row. Testing OK for Saskatoon Mountain raises concerns.
"The zero-impact seismic will likely do less damage than the quaders who currently rip around the area. They're, 'tearing the place to hell....'"
---
Cox News Service: Early Alaska thaws curbing oil search. Energy Department seeks new way to lengthen season.
"[An Alaska] state rule says heavy exploration equipment can be used on fragile tundra only when the ground is frozen to 12 inches deep and covered by at least 6 inches of snow. However, because winters in the Arctic are becoming shorter, the number of days the tundra meets those conditions has shrunk from more than 200 in 1970 to only 103 last year, a state document notes." ...
"But according to the state's description of the research, the shorter period for frozen tundra 'appears consistent with findings of general warming in the Alaska Arctic associated with global climate change.'"
---
Houston Chronicle: Buffett connects with local firm.
"In doing so, Buffett is investing in one of the most struggling sectors of oil field service industry [i.e., the seismic industry]. Although drilling activity has improved, this sector has not fully recovered from the last downturn, with some companies still reporting losses."
---
EBizQ: An Even Deeper Shade of Blue.
"One of the first expected to use deep computing on demand is GX Technology Corporation, which produces high resolution subsurface images from large volumes of seismic data."
---
Houston Business Journal: Shell WindEnergy plans wind farm in West Texas.
"Brazos is twice the size of Shell's previous biggest project and will increase the company's installed gross capacity in the United States from 232 megawatts to 392 megawatts, says David Jones, director of Shell WindEnergy."
---
Associated Press: Seitel to Join Berkshire As Subsidiay.
"Seitel Inc., which sells seismic data to oil and gas exploration companies, has joined the holding company headed by billionaire Warren Buffett as part of its plan to emerge from bankruptcy."
Reuters: Seitel files for bankruptcy, Berkshire to finance.
---
Cox News Service: Think fast! New supercomputers race toward unimaginable speeds.
"Earth Simulator, built by the Japanese government to model global temperatures, predict natural disasters and simulate the entire solid Earth as a system, is housed in a specially cooled four-story building in Yokohama.
"With more than 5,000 NEC processors linked by 1,900 miles of cable, it computes faster than the combined efforts of the next four fastest machines, all of which are American."
---
Oil Online: MMS issues final Western Gulf lease sale notice.
"The Minerals Management Service has issued the Final Notice of Lease Sale 187 in the Western Gulf of Mexico scheduled for Aug. 20."
---
Oil Online: MMS issues proposed Eastern Gulf lease sale notice.
"The proposed sale notice includes a requirement that each bidder submit ... a geophysical data and information statement declaring whether they possess or control depth-migrated geophysical data and information pertaining to each block upon which they are participating as a bidder."
> Dec. 10th.
---
Fort Wayne Journal Gazette: Fifteen From Cuban Boat in Custody.
"The U.S. Coast Guard boarded a 36-foot Cuban boat Wednesday and took 15 people into custody, a day after the government-owned vessel was taken from the island and was chased by Cuban authorities." ...
"Earlier Wednesday, Coast Guard Lt. Tony Russell said the Coast Guard did not believe the boat had been forcibly hijacked. Cuban officials said the boat was owned by GeoCuba, a government-owned geologic exploration and mapping company."
---
New York Times: Coup on Tiny African Islands Felt in Texas Oil Offices.
"No oil is expected to be extracted from São Tomé until 2007 or 2008, but the country has nonetheless become a international flash point, leading experts on West Africa to speculate it was only a matter of time before jostling for power ahead of the oil rush would evolve into political instability. Revenue from licensing agreements alone could reach $200 million in the next two years, an amount about four times the size of the national budget."
---
Reuters: Sao Tome Government Overthrown in Coup.
"Seismic data suggest millions of barrels of oil could lie off Sao Tome's coast near oil-rich Nigeria, Gabon and Equatorial Guinea in an increasingly important oil-producing region far from the risks of the Middle East. The world's leading oil companies, including Exxon Mobil and Royal/Dutch Shell are competing to exploit the reserves in a joint development zone with Nigeria."
---
New Orleans Times-Picayune: Landfill holes may spur parish suit. Firm's drilling lacked OK, Jeff officials say.
"The Jefferson Parish Council authorized its attorney Wednesday to sue a firm that it contends secretly drilled dozens of 100-foot-deep holes into an unused part of the parish landfill and now refuses to fill them. The parish wants Seitel Data Limited of Houston to fill the shot holes, which are 4 inches in diameter, or pay the project's estimated $100,000 cost, officials said." ...
"Though the holes ... pose no immediate environmental threat, they may cut through underground layers of clay designed to stop contaminated liquid from seeping into the ground...."
---
Petroleum News: Chasing Arctic breakthrough. Greenland touts North Sea-size potential in preparing licensing round.
"... the bureau [of Minerals and Petroleum] is emphatic that it sits on the doorstep of a world-class sedimentary basin sprawling over more than 100,000 square miles."
---
US Newswire: WV Site Selected for Carbon Sequestration Evaluation; Tests Will Determine Region's Ability to Permanently Store CO2 Underground.
"The 18-month AEP study will determine whether the geology near the Mountaineer Plant is suitable for injection of carbon dioxide deep into the earth, where it can be absorbed and permanently captured."
---
O&GJ: Shell, Total sign Saudi natural gas agreement.
"The announcement comes about a month after negotiations ended between state-owned Saudi Arabian Oil Co. and multinational oil companies concerning a key part of the 'Saudi Gas Initiative.'"
---
AFP: Shell wants 'legitimate' Iraqi authority before upstream bids.
"British-Dutch oil giant Royal Dutch/Shell will only vie for contracts to develop Iraq's upstream oil business once a 'legitimate authority' is in place, the group's chairman said in published remarks." ...
"The US Army Corps of Engineers published 'requests for proposals' on the Internet late Wednesday for two Iraqi oil contracts worth up to a billion dollars, replacing a lucrative deal awarded to Halliburton in March."
---
Nice little hurricane we're having today.
Houston Chronicle: Claudette takes toll on offshore drilling.
"As of Monday it had shut down 13 percent of the daily production of oil in the Gulf and 7.2 percent of natural gas, according to the Minerals Management Service regional office in New Orleans."
---
O&GJ: ONGC launches $390 million deepwater exploration program.
"India's Oil and Natural Gas Corp.(ONGC) plans to kick off a $390 million deepwater exploration program for 2003-04 with the drilling of three wells off the country's eastern coast, and two off the western coast."
---
CBC: Seismic plan gets qualified support.
"Western Geco wants to conduct a seismic program along 1500 kilometers of the Liard and Mackenzie rivers, looking for oil and gas. The company will use air guns to do the work.
"The project was referred to the Mackenzie Valley Environmental Impact Review Board because of uncertainty about the impact of air guns."
---
Sunday Herald: Sharp rise in whale deaths leads to call for sonar ban. Military linked to surge in fatal strandings on coast.
"The discovery of the corpse of a rare Sowerby Whale on a beach near Durness this month brings to eight the number of dead cetacea washed ashore along the Sutherland [Scotland] coastline since January. The sharp rise in strandings has rekindled concerns that they are linked to extremely loud sonar equipment used by military vessels that regularly practice off the coast." ...
"Sonar, propellers, seismic surveys, sea-floor drilling, and low-frequency radio transmissions have all turned the oceans into a noisy place."
---
Elizabethtown College: New Geological Model of Appalachians.
"Dr. Scanlin's research used seismic imaging, or underground photography to take pictures of the Earth's crust underneath this region of the ancient folded mountain belt."
> Underground photography? Was that the best a university PR hack could come up with?
---
Business Wire: Schlumberger and Intel Open First U.S. Energy Competency Center. Customers Can Test Drive Latest Reservoir Simulation Technology.
"Recent results from the TOP500 list that compiles the fastest supercomputers in the world shows that 119 are Intel-based systems, more than double from the previous ranking only six months ago. The list includes Intel-based high performance computing clusters already deployed by the world's leading energy companies."
---
New Orleans Times-Picayune: Exxon Mobil prepares to leave N.O.
"Exxon Mobil Corp. [began] the final stage of shutting down its 380-person New Orleans headquarters [last] weekend, as roughly a third of the operation's 300 geologists, engineers and managers [packed] up their Poydras Street offices and prepare[d] for their move to Houston."
---
Reuters: Seitel reaches deal to restructure $255 mln notes.
"Seitel Inc., which provides seismic data for oil exploration, said on Tuesday it had reached a proposed deal to restructure $255 million in senior notes that would cancel its existing stock and issue all new shares in the company to Ranch Capital L.L.C." ...
"Seitel would pay a total of $10.2 million in cash to those who hold its equity interests, or about 40 cents per share."
Houston Chronicle: Seitel will restructure debt burden. California firm would hold all shares.
"Within the 20 days following the involuntary bankruptcy petitions [on June 6], Ranch Capital purchased all of the $255 million in senior notes from the unhappy note holders, including those who tried to force the bankruptcy."
---
Oil Online: ChevronTexaco awards seismic survey contract.
"ChevronTexaco Upstream Europe has awarded a contract to WesternGeco for a 3D seismic survey utilizing the advanced Q-Marine system."
---
Oil Online: TGS-NOPEC to acquire new Greenland seismic data.
---
Cordis News: New research vessel offers unique opportunities for European marine studies.
"G.O Sars is also equipped to take core sediment samples from 25 metres beneath the seabed, while a special echo sounder can examine sediments as far below the seabed as 150 metres. The vessel can also perform seismic surveys with the aid of towed air guns and hydrophones."
---
Reuters: Bush team turns about, encourages conservation.
"Mark Cooper, an economist at the Consumer Federation of America, criticized the new effort.... 'They barely even talk the talk, forget walking the walk,' Cooper said."
---
O&GJ: BHP makes deepwater discovery in the Gulf of Mexico.
"The well, drilled [on Walker Ridge Block 469] in 8,830 ft of water, reached 27,650 ft TD and discovered a gross oil column of 620 ft, with 260 ft of net pay."
---
Oil Online: MMS completes Central Gulf lease bid evaluations.
"The sale was held March 19, 2003.... The final net high bid total for the lease offering is now $297,598,165 on 545 tracts."
---
Houston Business Journal: Zilkha proposes second Central Washington wind farm.
---
An actual useful link:
Publicly Released 'SMAART' Data Sets, available to the Geophysical Industry.
---
Computerworld: IBM opens supercomputing-on-demand facility. Linux and Unix clustered servers to be leased.
"The first company to sign up for the on-demand supercomputing service was Petroleum Geo-Services ASA's PGS Data processing division, which signed up to do a three-month seismic imaging project in January."
Business Wire: IBM Flips the Switch on Deep Computing on Demand; GX Technology Plans to Transform Business with Supercomputing On Demand.
---
Austin Business Journal: Dell installs cluster for oil company [Saudi Aramco].
---
Byte and Switch: CGG Picks LSI Logic Storage.
"CGG will use the company's technology to store up to 1.7 petabytes of critical seismic data this year."
> Of course it's critical -- it's seismic data!