Houston Business Journal: Seitel to default on notes, seeks restructuring options.
"During the last two weeks, $96 million in principal amount, or 37 percent, of the notes have been acquired by a single purchaser, whose identity Seitel did not disclose."
---
More news from the war on whales --
Environmental News Network: Oceans Under Fire.
"Nova Scotian environmental groups today played recordings of seismic blasting in Downtown Halifax.... Their goal is to stop the CNSOPB from permitting petroleum exploration in the Southern Gulf of St. Lawrence and off Cape Breton."
---
Silicon Valley Biz Ink: Magic Earth and Rock Solid Images Announce Resale Agreement.
"The agreement focuses on joint marketing efforts of seismic reservoir characterization and volume-based visual interpretation technologies."
---
The Malaysian Star: Geophysics firm to set up IT hub in Malaysia.
"CGGAP Sdn Bhd, a geophysics company [and 'local partner' of CGG], has decided to deploy IBM Linux Cluster technology for seismic data processing in the Asia-Pacific region from an information technology (IT) hub to be set up in Malaysia."
---
O&GJ: Raymond James & Associates: E&P stocks could offer potential returns of 25-40%.
"Exploration and production stock investments could yield potential returns of 25-40% during the next 12 months because the market is beginning to recognize the sustainability of higher, long-term natural gas prices."
---
O&GJ: Second K2 appraisal well on Green Canyon Block 562 confirms significant discovery.
"Agip spudded the K2 No. 3 well in February in about 3,900 ft of water. Drilled to more than 27,000 ft TD, the well encountered 208 ft of oil pay in two sands with no oil-water contact, confirming prior estimated gross reserves of about 100 million boe and suggesting additional reserve potential."
---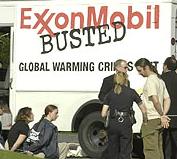 AP: Protesters Block Exxon Mobil Headquarters.
"Environmental activists blocked the entrance to Exxon Mobil's headquarters Tuesday and climbed onto the roof to protest what they said was the oil company's inaction against global warming. The environmental group Greenpeace said 32 protesters were arrested."
---
Business Wire: TRICON and Starbridge Announce Joint Development Partnership for Seismic Applications.
"The solution's advantage is based on Starbridge Hypercomputers' ability to execute thousands of operations per clock cycle, as opposed to one or a few on conventional computer systems.... TRICON and Starbridge will develop the new combined solution utilizing TRICON's existing SGI high-performance computing infrastructure."
---
Houston Business Journal: Input/Output lands outsourcing deal to manufacture in Mexico.
"Input/Output said Celestica will make Tescorp cables and connectors, Sensor geophone strings and other seismic equipment."
---
Rotorhub.com (The Hub of the Helicopter Industry): Mike Tuttle moves to another Gulf of Mexico operator (OMNI Energy) after 29 years with AirLog.
"Headquartered in Carencro, LA, OMNI Energy offers a broad range of integrated services to both geophysical and production companies engaged in the acquisition of on-shore seismic data. The company provides its services through several business units: Seismic Drilling, Helicopter Support, Permitting and Seismic Survey."
---
Independent Online, South Africa: SA could join big oil-producing nations.
"Jack Holliday, chief executive of Petroleum Agency SA, the government body set up to promote oil and gas exploration and investments, disclosed that a comprehensive seismic survey in the deep water off the West Coast had disclosed 'incredibly exciting' geological information on potential oil deposits."
---
The Daily Advertiser: Taking a deeper look. New study analyzes Gulf of Mexico oil and gas fields.
"The study shows that the deep-shelf Gulf of Mexico has more deep, active fields and deep producing wells than any other deep offshore-shelf environment in the world.... Trammel said that some analysts believe the deep-shelf areas may be within the first 10 percent of its lifespan and that the estimated recoverable reserves are about 10 trillion cubic feet of natural gas."
---
World Oil: 4D seismic on demand is the goal.
"To date, three major techniques have emerged for marine 4D seismic acquisition, namely, conventional streamer, ocean bottom cable (OBC), and permanently installed OBC."
> The statement that "the usefulness of 4D is not in dispute" is naive, I think. 4D still hasn't matured enough to be a broadly applicable technology.
---
Houston Business Journal: ConocoPhillips to increase layoffs to 3,100.
"Reuters reported that so far 1,150 employees were fired in the first quarter, in addition to the 775 workers terminated last year."
---
More news from home --
KATC: Seismic Survey Shakes Lafayette.
"About 6,000 sites across Lafayette are being surveyed for oil and gas."
---
Rhonda Duey, Hart's E&P: The sound of science. Research and regulations are vying for supremacy as noise pollution in the Gulf of Mexico is debated.
> Excellent summary of the story to date.
---
Cool toys --

World Oil: The next generation in visualization/ collaboration facilities.

"Anadarko Petroleum Corp., one of the world's largest independent petroleum exploration and production companies, recently installed next generation visualization and collaboration systems."
---
Houston Business Journal: Oilfield services firms tread water with mixed results.
"Of nine Houston-based oilfield services companies that have reported their first quarter earnings, four posted increases over last year's first quarter. Three saw lower earnings while two others -- Rowan Cos. and Diamond Offshore Drilling Inc. -- turned in losses."
---
PR Newswire: Paradigm Demonstrates its Advanced Workflows at AAPG 2003.
"... demonstrating its highly scalable Trace-to-Target(TM) workflows ..."
---
Grid computing seems to be coming up a lot recently, so here's a quick introduction --
Light Reading: Grid Networking.
"The grid computing market, as a whole, is in a relatively early stage, but now is the time to initiate grid-related developments for several reasons.... The emerging applications are significant, coming from increasingly important vertical markets, including energy and oil, financial services, government, life sciences, and manufacturing."
---
Business Wire: Input/Output Cancels Marine Solid Streamer Research & Development Project.
"[Robert P. Peebler, I/O's new CEO, stated] 'Considering the time and cost required to develop a solid streamer product ... and continued success of our liquid-filled streamers, I have decided to focus our development efforts on other promising marine technologies...."
---
Oil Online: Energy Ventures announces they have closed an investment in Seabed Geophysical AS.
"SeaBed Geophysical AS is a technology and service company that specializes in seabed seismic by deploying geophone sensor nodes into the seabed and acquire high quality multicomponent (4C) data."
---
Shooting a dead horse --
Anchorage Daily News: BP expects new data to improve oil exploration.
"The seismic survey covered 180 square miles and included all of the facilities at Prudhoe Bay and the Deadhorse Airport, which has never been surveyed because of logistics problems involving airport operations. Seismic surveys were also shot through the town of Deadhorse itself, where many oil-service companies are based."
---
I was in New Orleans today. That doesn't have anything to do with this next story, though --
The New Orleans Times-Picayune: Oil industry pumps up oyster farms. Leaseholders find a golden goose.
"On average, oil and gas companies shell out an estimated $5 million each year to oyster farmers for the right to conduct operations on or near their leases. That's equivalent to one-fifth of the entire Louisiana oyster crop, records show." ...
"One of the main sources of cash involves seismic testing.... A leaseholder usually gets $250 for each seismic shot, and seismic companies sometimes shoot 50 to 100 charges per lease, said Don DuBose, who oversees seismic activity in southern Louisiana for Western Geophysical."
---
The Mountain Ear: Tales of snowy owl and ptarmigan.
"This is part of a continuing series by naturalist David Eastman of Tamworth on his flying experiences while transporting oil workers in Alaska in the late 1960s."
---
Business Wire: Input/Output's New Marine Distributed Digital Seismic Source Controller.
"Chuck Ledet, Input/Output's general manager for marine products, explains, 'Marine 3D surveys demand tightly controlled gun array synchronization. This is even more critical for 4D and vertical seismic profile (VSP) communities that want to improve seismic sources' individual gun timing for overall array output and repeatability. DigiSHOT provides oil companies and seismic contractors with instant visibility of each marine seismic airgun's performance within the source array through critical measurements gained from real-time gun data at every shot point. Each airgun can be precisely controlled through distributive digital control....'"
---
Press Release: SGI Tops Graphics, Server and Workstation Categories in World Oil Visualization Center Survey.
"SGI has swept key graphics and high-performance computing (HPC) categories in World Oil's survey of more than 80 oil and gas companies around the world that have their own visualization centers. The survey results ... find that 88% of surveyed companies use SGI graphics products and 86% use SGI HPC products."
---
CRM Daily: Pay-As-You-Go Computing No Bargain.
"This is not the case in every situation, though. AMR Research notes it can be beneficial for many firms -- for example, IBM customer Petroleum Geo-Services expects to save US$1.5 million per year on its Gulf Of Mexico seismic-imaging endeavors.... However, companies with consistent demand for computing resources may not realize such gains."
---
Time for the Offshore Technology Conference. OTC is not really a G&G conference; it's mostly for the engineers. But they want to look sexy, so they're always trying to borrow our mojo. Here's a lay description of downhole methods --
Houston Chronicle: Thunder Horse Field becomes an offshore showcase.
"Houston-based READ Well Services Americas was hired by BP to precisely map the field using sound waves in a job called reservoir imaging. By placing sensors in a well, READ personnel were able to halve the number of trips the sound waves made through the muck at the bottom of the Gulf. That ensures a better look because that muck soaks up the higher frequencies, plus the salt layer farther down bends sound waves.
"More typically, an array of sensors is towed behind boats to pick up the sound waves as they bounce back, and sometimes the sensors are laid on the bottom." ...
"'The air blasts from the source boats are about 1,000 times more powerful than a car tire blowing up in your face. You can actually feel it,' Chmela said."
> I think he means that you can feel the boom of airguns while you are on the boat. I think.
---
Oil Online: WesternGeco awarded contract for three Q surveys.
"WesternGeco announced that ExxonMobil Exploration Co. has awarded the company a multiproject Q-Marine contract to cover three ExxonMobil assets in West Africa, the Gulf of Mexico, and the North Sea."
---
ZDNet: IBM girds up computing grids.
"IBM will announce Monday that it has sold grid systems to three major customers -- RBC Insurance, Kansei Electric Power and Royal Dutch Shell.... IBM hopes to profit not only by selling hardware, software and storage systems out of which grids can be built, but also by renting out access to its own grid equipment."