Oil and Gas International: Landmark releases ProMAX & VIP for Linux.
"Broad support of Linux by the leading hardware, software, and data storage providers, including Compaq, Dell, EMC, IBM, Intel, Network Appliances, and Oracle, results in an opportunity for the E&P industry to fully realize substantial price-performance benefits not previously available."
---
Houston Business Journal: Input/Output posts Q4 profit.
---
I'll just mention that Oil and Gas International has a lot of international exploration stories posted today. Nothing particularly exciting, though.
---
WSJ (subscription): Oil-Firm Earnings Are Pressured By Lower Prices, Firms' Overhauls.
"Analysts say the quarterly results suggest that Chevron, which acquired Texaco for $38 billion in October, may have paid too much for the company's assets."
> Marthon and Unocal earnings were also ugly.
---
WSJ (subscription): ChevronTexaco May Bid for Conoco Or Phillips to Thwart Merger Plans.
"The board of ChevronTexaco is slated to consider an offer at a meeting Wednesday, these people said. As of Tuesday evening, the company hadn't determined which of the two midsize companies it would pursue, these people said." ...
"A rival bid could also create serious antitrust issues, which has been considered a key reason that no other company so far has sought to break up the Phillips-Conoco deal."
---
Oil & Gas Journal: Petro-Canada to pay $3.2 billion (Can.) in cash for Veba international assets.
---
WSJ (subscription): PanCanadian-Alberta Deal Sparks Talk of More Suitors Stepping In.
"... deal makers said the tie-up could certainly prompt other interested parties to pounce. Potential bidders include Anadarko Petroleum Corp. and Dutch giant Royal Dutch/Shell Group."
---
WSJ (subscription): Devon Taps Salomon, Waterous For Sale of Argentine Oil Assets.
"Devon, the largest independent natural gas producer in North America, is clearing out a large share of its international E&P portfolio in a bid to concentrate on the more promising energy hotspots of Azerbaijan, China and West Africa."
---
Oil and Gas International: Conoco planning wildcat on Walker Ridge.
"There are six other Walker Ridge wells not far from the Conoco site, ChevronTexaco's Blocks 70 and 456 wells, both abandoned and left for future re-entries; two BHP wells on Block 425; and Unocal's Block 678 wildcat well abandoned a year ago."
> See also the seventh entry on the 22th.
---
WSJ (subscription): Patent Office Orders Re-Examination Of Unocal Gas Formulation Patent.
"The patent office said it is re-examining Unocal's `126' patent, awarded in 1998. Last year, it began a review of Unocal's first gasoline patent, `393,' granted in 1994."
---
Oil Online:
"The U.S. Public Interest Research Group's Arctic Wilderness campaign thought it was important for BP to measure the risk to its `carefully cultivated brand image' from drilling in sensitive areas like the Arctic Refuge."
Wall Street Journal (subscription): PanCanadian to Buy Alberta Energy In Agreement Valued at $6.6 Billion.
"Analysts say the combination of PanCanadian and Alberta Energy would help shield these companies from being acquired and would provide a larger capital base for them to expand internationally. The joined entity would be renamed EnCana Corp....
"Despite falling energy prices, a weak Canadian dollar continues to make that country's energy companies vulnerable to foreign takeovers. Last fall, independent energy producer Burlington Resources Inc. agreed to buy natural-gas concern Canadian Hunter Exploration Ltd. for $2.08 billion. And Devon Energy Corp., one of the largest independent energy producers in North America, bought Canada's Anderson Exploration Ltd."
Oil and Gas International: Merger talks laying groundwork for North America's largest independent.
"PanCanadian Energy Corporation has revealed that the rumors of a possible merger of it and Alberta Energy Company have a basis in fact. The two major Canadian oil and gas companies are in the midst of negotiations regarding the possibility of a merger of equals."
---
Oil Online: Devon Energy completes acquisition of Mitchell Energy.
---
Oil & Gas Journal: Conoco budgets $2.8 billion for 2002 operations, flat with last year.
"Officials said 82% of that budget is for upstream operations, especially in North America, the UK, and Southeast Asia. Most of that spending will be for development. Only $500 million is earmarked for exploration, down from 2001's exploration spending of $582 million."
---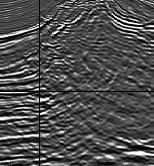 2002.01.23
I spent this morning reading excerpts from Biondo Biondi's excellent on-line publication 3-D Seismic Imaging. What a fantastic resource! The SEG should give this guy award. (Or another award, if they've already given him one.)
I was particularly interested in the sections on wave equation migration. This quote on the relation between double square root migrations and shot-profile migrations is really profound:
".. at each depth level the results of source-receiver migration [a DSR implementation] is equivalent to survey sinking followed by a shot-profile migration limited at the survey level."
Really profound, but I don't know what it means in practice. Both methods implement "downward-continuation based on a recursive solution of the one-way wave equation." However, my understanding is that shot-profile migrations are much more computationally expensive.
On a related note, I've been surprised to find that people running shot-profile migrations are routinely discarding 80% to 90% of their data. That seems nuts.
As long as I'm praising Biondo publicly (if you can call my weblog "public"), I'll mention that he gave a typically excellent presentation last week at UH for the Los Alamos meeting on Next Generation Seismic Modeling. His topics included amplitude preservation in migration, narrow azimuth wave equation migration and wave equation velocity analysis. As always, most informative.
---
WSJ (subscription): Exxon's Profit Slides on Weaker Margins, Tumbling World Prices for Oil and Gas.
"Even as prices fell, Exxon Mobil continued to spend on exploration and drilling, underscoring the piles of cash the sector accumulated in 2000 and into 2001, when high petroleum prices resulted in record earnings. Capital expenditures during the fourth period were up 25% to $3.89 billion compared with a year earlier, with an increase in drilling activity.
"Perhaps more significantly, Exxon Mobil said it intends to boost capital spending an additional 10% in 2002, with a focus on exploration and production."
---
Seven links to Oil and Gas International!
Oil and Gas International: CGG already booked half its capacity for 2002.
"During the last two weeks of December 2001, CGG's offshore acquisition division was awarded more than US$50 million of work, for both exclusive and non-exclusive programs."
---
Oil Online: PGS awarded new contracts.
"... its onshore division has secured new seismic acquisition contracts in the United States, Ecuador, India and Bangladesh valued at $58 million, boosting the Company's backlog of 2002 onshore work to more than $110 million."
Oil and Gas International: PGS sells Atlantis to Sinochem.
"The London-based Atlantis subsidiary is staffed primarily with reservoir engineers, geologists, and geophysicists, who provide technical consulting services, reservoir studies, enhanced recovery services, prospect identification, seismic data interpretation, seismic data reprocessing services, and other geophysical services in exchange for cash or other compensation, including interests in oil and gas properties or concessions."
Oil and Gas International: Veritas PGS merger on track.
---
Oil and Gas International: UK Energy Minister Wilson opposes Enterprise Oil takeover.
"In an article in the Sunday Guardian Observer, a leading British newspaper, Wilson is said to have spoken out strongly against the possible acquisition of Enterprise Oil by ENI, saying that it could put the development of the UK North Sea's remaining petroleum reserves at risk."
---
Oil and Gas International: Kerr-McGee replaced 490% of its output in 2001.
"In 2002, Kerr-McGee has budgeted $170 million for exploration expense to drill approximately 20 to 30 exploratory wells, including 10 to 15 in the deepwater Gulf of Mexico."
> Kicking ass!
---
Oil and Gas International: BHP to drill wildcat in US Gulf's Walker Ridge 206.
"Its Cascade Prospect well will be the ninth ultra-deepwater wildcat drilled on Walker Ridge. So far, none of the exploratory wells drilled on the tract has been reported successful."
---
Oil and Gas International: Pemex 2002: $14.7 billion budgeted mostly for E&P.
"This year's planned E&P investments represent a major departure from previous years' budgets, which averaged $7.24 billion."
---
Oil & Gas Journal: S&P reports negative near-term outlook for energy industry.
"Limited production capacity and rising depletion rates have set the stage for strong spending on exploration and production within the oil sector for the next several years. S&P projected the price of West Texas Intermediate oil will average about $22.06/bbl for 2002."
---
Oil and Gas International: Kerr-McGee putting $780 million into 2002 E&P.
"The company is also budgeting $170 million for worldwide exploration expense, which is expected to fund the drilling of 20 to 30 exploratory wells, including 10 to 15 in the deepwater Gulf of Mexico."
---
Oil & Gas Journal: Talisman to spend $2 billion (Can.) on E&D in 2002.
"Talisman Energy Inc., Calgary, plans to spend $2 billion (Can.) on exploration and development in 2002, up 6% from last year. More than 70% of the budget will be spent on development projects. Two-thirds will be spent on Canada and the North Sea."
---
The London Telegraph: ENI lips are sealed on Enterprise bid.
"ENI of Italy, the world's sixth largest energy group, yesterday remained tight-lipped on speculation that it was behind an unsolicited bid for Enterprise Oil, Britain's largest remaining independent player."
Oil & Gas Journal: ENI SPA confirms it has Enterprise Oil PLC in its sights.
---
The London Telegraph: TotalFina plots bid for Conoco.
"City insiders also say that Chevron, which has acquired Texaco, may also attempt to break up the merger with Phillips. Conoco's shareholders, who will vote on the proposed `merger of equals' with Phillips within the next few months, are said to be increasingly concerned that Phillips would benefit more from the deal."
> Back in 1998, The Telegraph was reporting that Elf was going to take over Conoco.
---
Oil and Gas International: Bush attempting to bypass California review of offshore E&P.
"The argument has been going on for years, ever since the Clinton administration renewed licenses for the blocks off California's Ventura and San Luis Obispo counties in 1999 when they were about to expire."
> And on a related note --
Houston Chronicle: Ashcroft pursues Clinton-era clean air lawsuits. Some argue Bush administration really aims to weaken regulations.
"However, the department stressed that its finding was `retrospective,' only examining pending enforcement actions, and expresses no opinion on how the Clean Air Act should be enforced in the future."
---
There are several interesting talks in the next couple of days.
---
Houston Business Journal: Anandarko installs high-tech labs at new Woodlands campus.
"Anadarko Petroleum Corp. and Mechdyne Corp. have begun installing eight visualization laboratories in Anadarko's new building under construction in The Woodlands." ...
"The company is building seven workrooms plus one larger-scale IDEA theater, which will have seating for 25 and a 30-foot by eight-foot screen which can be transformed from a flat panel into a U-shaped immersive box. The box can simulate being thousands of feet below the surface of the earth, in and around oil-bearing formations." ...
"The IDEA labs are expected to be operational in May, by which time the company expects to be moving from its present headquarters in Greenspoint into the new, 30-story building on I-45 near The Woodlands Mall. Anadarko is pre-wiring the new building for deployment of up to 10 additional IDEA workrooms."
Houston Chronicle: Anadarko shares take a wild ride after profit warning.
"Anadarko is scaling back its capital spending budget to $2 billion, about half the size of 2001."
---
Oil Online: Marathon Oil is now stand-alone entity.
"Marathon gained its independence Dec. 31 when the USX-Marathon Group board took the final action to separate the companies, as earlier announced."
---
Hart's E&P: Only in union is there strength. PGS and Veritas prepare for an April wedding in hopes of providing a little more competition for WesternGeco.
"... at a conference call announcing the merger, Veritas management indicated the PGS business philosophy is similar to its own, in spite of the fact that Veritas is quite debt averse while PGS has managed to rack up US $2.4 billion in debt. PGS also has attempted to diversify with a production division while Veritas has traditionally stuck to a more core set of geophysical offerings.
"Maybe it's true that opposites attract." ...
"If the deal goes through, the [Houston Chronicle] article stated, WesternGeco and the PGS-Veritas entity would control nearly 80% of the upper-end 3-D seismic vessels. A Veritas official estimated the two companies would control between 60% and 65% of the global seismic market share, including land and marine data acquisition and processing."
[The merger agreement collapsed, of course.]
---
This is a good overview and summary of near-term industry business trends --
Hart's E&P: Worldwide cash outlays that drive future oil and gas production will decline in 2002, but spending will remain strong..
"According to a Lehman Brothers publication of information from World Geophysical News, 56 crews were working in the United States in September, down from the year's high of 63 in April and less than half of the 134 rigs working in September 1998. All that annual decline came from onshore seismic activity.
"Offshore, the 18 active crews matched the high for the year, and three-quarters of those vessels were shooting 3-D or 4-D seismic."
---
BBC News: Iceland launches energy revolution.
"Iceland has already gone further than any other country in exploiting its abundant sources of renewable energy. Virtually all of its electricity and heating comes from hydroelectric power and the geo-thermal water reserves tapped from the hot rock layers lying just beneath the surface of this extraordinary island." ...
"The idea at the heart of the project is that Iceland can use its pollution-free, cheap electricity to "split" water into its component parts of hydrogen and oxygen through the process of electrolysis, something it has already been doing for nearly 50 years at a plant producing ammonia for fertilisers."
---
Subsalt rambling:
Three weeks ago I attended a GSH Data Processing SIG on seismic modeling. The speakers were Bill Pramik of PGS and Chengbin Peng of ADS. Both presentations represented seismic modeling as a processing tool, which is a favorite topic of mine. I'll be the first to admit, though, that seismic modeling is usually just a "cover your ass" tool. ("It's not our fault the subsalt image in our prestack depth migration is crappy. The modeling shows that your survey has poor illumination at the target zone.")
The first talk highlighted CYA seismic modeling. Peng's talk, however, had one result that I found very interesting. He had elastic wave equation generated data of a salt body. By filtering the direct wave, he was able to use offsets out to 20 thousand feet in the prestack depth migration. The migrated results showed subtle but distinct differences versus conventionally muted data at the base of salt. Peng admitted that he was disappointed the image didn't improve more, but I think he underestimated the significance of his results.
In a post-convention SEG workshop last September, Josef Paffenholz of BHP showed a nice subsalt imaging study that was relevant to this issue. Paffenholz depth migrated data from the SMAART consortium using the correct velocities but a slightly perturbed model. Although he migrated using the exact velocities, he applied spatial filters to the top and base of salt interfaces so that his migration model differed slightly from the actual model. For both Kirchhoff and wave equation migrations, the effect was dramatic; the migrated image of the subsalt reflectors was incoherent. His inference was that exactly nailing the salt interface geometry is crucial in subsalt imaging (the most important issue?).
Combining Paffenholz's results with those of Peng, maybe we need to use as much of our data as possible in subsalt depth migrations. Of course, in the Gulf of Mexico we often lose most of our far offset signal to mode conversions. But for rugose top of salt geometries, you never know which offsets are going to penetrate and illuminate the base of salt.
---
Oil and Gas International: 4,000 US exploration jobs lost in December.
"It leaves US oil and gas drilling and exploration workers at only 336,000 after seasonal adjustments, the Department said - 6,000 fewer than the country employed during its three-year high in August and September 2001."
---
Oil & Gas Journal: Unocal emphasizes spending for development projects in 2002 budget.
"Exploration capital would be $400 million, down from $500 million in 2001."
---
Oil & Gas Journal: New IAGC head says geophysical firms must rebut subsea noise claims.
"`[The International Association of Geophysical Contractors] started in 1971 with 27 members, including 6 or 7 oil companies,' said Darden. The association grew fairly steadily to a peak of some 370 member companies in September 1981. From that point, Darden said, membership dwindled away through `gradual annual attrition' as a result of acquisitions, mergers, and business failures. `Membership finally reached a plateau of 200-220 companies around 1990, and we have maintained that level ever since,' he said."
---
Oil and Gas International: Cook Inlet nominations due to MMS in mid-February.
"As defined now, the Cook Inlet includes 517 whole and partial blocks or about 2.5 million acres that are overseen by the MMS as federal lands."
---
Oil and Gas International: Ram Naik says India to offer new E&P tracks.
---
Oil & Gas Journal: Gas group backs environmental lawsuit to impel alternative fuels use.
"The environmental coalition Earthjustice (on behalf of the Center for Biological Diversity, Bluewater Network, and the Sierra Club) filed a lawsuit this week that alleges 18 federal government agencies are not meeting obligations under the Energy Policy Act to purchase alternative fuel vehicles (AFVs) for their fleets."
---
Oil Online: Landmark Graphics Corp. announces the delivery of Release2003.
"... the E&P industry's most integrated and comprehensive technology suite for efficiently finding and managing oil and gas assets.... the foundation for upcoming Landmark innovations, including ... the Linux operating system."
> Whatever.
---